5X40 Zoom 850nm HD Digital Night Vision Monocular Infrared Scope IR Camera Video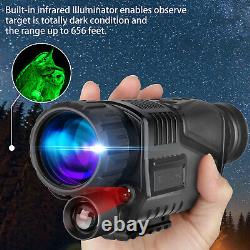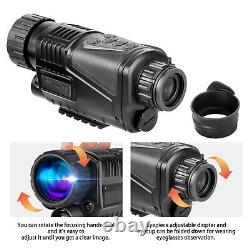 ###x1F4F8; 5X40 Infrared Hunting Camera: Digital monocular with CMOS sensor achieves clear view up to 5X optical magnification and 8X digital zoom magnification with 40mm objective lens. ###128693; Long Viewing Range: Built-in infrared Illuminator enables observe target is totally dark condition and the range up to 656 feet. CCD auxiliary lighting keeps the image clear and bright. During the day or low light, observation distance is infinite.
Eyepiece adjustable diopter and eyecup can be folded down for wearing eyeglasses observation. ###x1F9E2; HD Digital Night Vision Device: High definition digital night vision has photo shooting and video recording with sound, and playback functions on 1.5 inch TFT LCD. The resolution of the image is 640 x 480. ###128268; File Export Function: It also can connect the computer with a USB cable and connect TV with TV cable, USB and AV OUT sockets are equipped that allows you can share your images and videos to your family and social media.
You can rotate the focusing handwheel and it's easy to adjust it until you get a clear image. ###x1F308; Solid Framework: The monocular features a threaded tripod mount and weaver rail for securing to a tripod or connecting an additional IR illuminator. It recharges the battery using the DC IN socket by a power adapter. ###128167; IP54 Waterproof & Durable: Rubber armor with stripes makes it comfortable for use and keeps it from slipping out from your hand.
Tight-fitting protection makes it usable to withstand the toughest weather conditions. Completely sealed and nitrogen-filled makes it fog and rainproof prevent moisture and dust from getting inside the monocular. ###128640; Application: It is suitable for hunting and scouting game, security and surveillance, camping fun, exploring caves, nighttime navigation, night fishing and boating, wildlife observation, search and rescue, nighttime show, bird watching, scenery. ###x1F4D1; The type of battery is 14500 3.7V/750mAH (Included).
###x1F4D1; Resolution of displayed image: 300,000 pixels 640 x 480. ###x1F4D1; Camera pixel: 300,000 pixel SD. 1.5 Hours with IR off, 1 hours with IR on. The Range of Ocular Adjustment.
Observing Distance(Low Light Environment). Observing Distance(Full Dark Environment). Maximum support 256G memory card. Wide field of view, Adjustable eyepiece, Powerful infrared spotlight.
Photograph, video, playback, file export function, screen brightness adjustment (Bright), auxiliary lighting adjustment (Lamp). ###x1F4E6; 1 x IR Monocular (Black Color). ###x1F4E6; 1 x USB Cable. ###x1F4E6; 1 x AV Video Cable. ###x1F4E6; 1 x Battery (14500 3.7V/750mAH) (Included).
###x1F4E6; 1 x Carrying Bag. ###x1F4E6; 1 x User's Manual. ###x1F4E6; 1 x Cleaning Cloth.
Thank you for your support!