APEXEL Infrared Night Vision Goggles Device 1080P HD 4X Digital Zoom For Hunting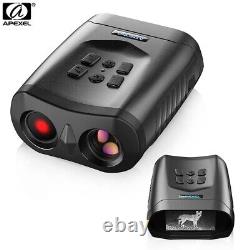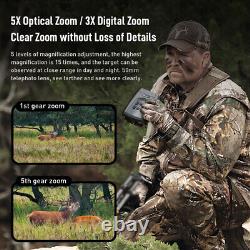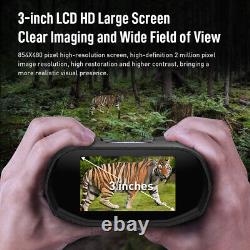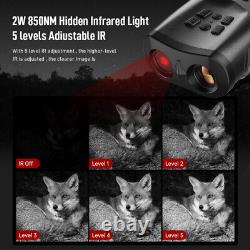 APEXEL Infrared Night Vision Goggles Device 1080P HD 4X Digital Zoom For Hunting. Superior Night Vision in full Darkness? The high-performance infrared binoculars night vision help you find further target. 5X optical zoom, 4X digital zoom, super long range, 2W 850nm strong infrared spotlight with high-sensitivity CMOS sensor, 5 adjustable IR levels, which are perfect hunting gear and tactical gear, no matter you are hunting, observing wildlife or exploring field. Auto IR Filter Starlight SENSOR? Amazing clarity at night, see every corner of the dark and find out the hidden prey. Binoculars with camera can be used to take 1080P videos and 2MP pictures. The large-window screen is 3-inch TFT and dimmable in 5 levels, reducing eye strain while long-term observation. IR: 2W 850nm strong infrared spotlight with 5-level adjustment.
Maginification: 4x digital zoom, 5x optical zoom. Lens: F2.2 large aperture, f=35mm, automatic filter.
Display: 3 inch TFT (854X480). Viewing distance in full dark:300m. Automatic shutdown: 1 min/3 min/5 min/OFF.
Battery capacity: 3000mAh rechargeable battery (included). Picture resolution: 2M (1600x1200), 1M (1280x960), VGA (854x480). Storage: up to 32GTF card.
Power supply: lithium battery/ type-c 5V/2A. Support 11 languages (Chinese, English, Spanish, Russian, German, Japanese, Arabia, Korean, Portuguese, French, Italian). 5X Digital Zoom Long Range Infrared Night Vision Goggles For Hunting. Day and night dual use. 3 inch LCD HD large screen.
5X Optical zoom/4x digital zoom. 5 levels of magnification adjustment, the hightest maginification is 15 times, and the target can be observed at close range in day and night. Support 2-12MP photos, 4K high-definition video, display more vivid details. 2W 850nm Hidden infrared light with 5 level IR adjustment.
The viewing distance has up to 300m in full darkness. Files can be exported for viewing. Is an optical solutions company designing, developing, and manufacturing optical elements and components using high-precision nanoscale features. We take optical applications to a new level of performance, efficiency, and compactness, The result is optical design solutions for next-generation sensing and imaging applications. Your support will be our motivation and we will continue to provide better service for all our customers.
We will try our best to resolve the problem. Your satisfaction is the principle of our service.