ATN X-Sight II HD 5-20x Day/Night Digital Rifle Scope DGWSXS520Z Display Model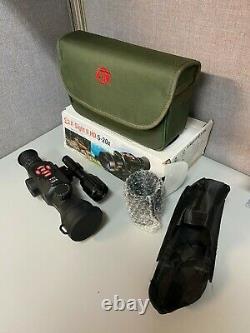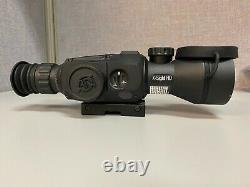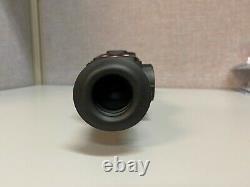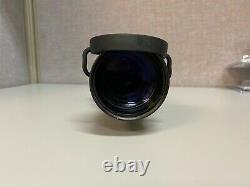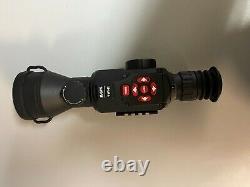 Item is new and used for display only. The new ATN X-Sight II, powered by the Obsidian II Core, utilizes HD optics and the first ever HD micro-display to turn this Day/Night rifle scope into a true powerhouse. Make your shots at ranges previously impossible with a digital or a night scope. At a billion cycles per second, the ATN Core pushes optics into the 21th century! Utilizing high-resolution sensor with distinct night vision capability. The Obsidian Core is a highly specialized computer that is designed to run a suite of sensors and crunch huge files in a blink of an eye. The ATN X-Sight II incorporates HD lenses, HD sensors and HD displays to give you a full HD resolution system. Ballistic calculators were never this easy. No more charts, complex reticles, and calculators. The ATN Obsidian Shooting Solution does it all.
Range in with your Smart Range Finder enter your wind readings and let the Obsidian Core do the rest. Turn through the wind, change your incline angle, adjust distance and instantaneously your point of impact will shift to have the perfect shot every time.
You have more important things to worry about then remembering to press the record button before each kill shot. But boy wouldnt it be nice to have that video afterwards? Recoil Activated Video (RAV) takes care of all your worries. Just relax and focus on your game and let the Obsidian Core do the heavy lifting. When you set your video record to RAV, the system buffers everything your scope sees. As the trigger is pulled you are left with a full video of what you saw before the shot was taken, the moment of, and as much video after as you care for. Save all the ballistic and zeroing-in data in the profile manager for every weapon that you plan to use the X-Sight on. No worries about resetting everything up every time. Just create a new profile and you are ready to go. Our Patent Pending Smart Range Finder will make your life easier than ever. With only two clicks and a simple shift of the scope you will be able to range your target. Once ranged in your reticle will automatically adjust its point of impact. No more guessing, chart memorization or complex calculations. Make capturing your experiences in stunning 1080p full HD a regular part of your adventures. Dont miss another opportunity to capture that once in a lifetime moment. The X-SIGHT II HD next-gen barometer gives you precise accurate data so you can make sure everything is dialed in! Record videos and take photos to bring your adventures back home to share with friends, family and on social media. Improve ability to smoothly spot game by activating the built-in gyroscope & image stabilization!
Steady your view and make the experience a lot of more fun! The E-Compass let you know exactly what direction you need to head so you can move a little closer and get a better shot at that monster buck youre tracking. By utilizing the ATN Obsidian app, you can control your device and view live streaming.
Want to see what youve recorded so far? No problem, once connected to the app via WiFi, open up the Gallery and playback your latest adventures. All your photos and videos are right at your fingertips. HD 1080p ATN L130 Sensor. From 4 to 64 GB. WIFI (STREAMING, GALLERY & CONTROLS). Multiple Patterns & Color Options. #35 (double lever), LaRue LT270, American Defense (AD-170). BATTERY PACK (16000 MAH) LIFE (OPTIONAL). 4 AA type batteries, 1.5 V (Lithium recommended). 11.36 x 3.5 x 3.45/289 mm x 90 mm x 88 mm. The item "ATN X-Sight II HD 5-20x Day/Night Digital Rifle Scope DGWSXS520Z Display Model" is in sale since Friday, March 5, 2021. This item is in the category "Sporting Goods\Hunting\Scopes, Optics & Lasers\Night Vision Optics".
The seller is "opticsdepot" and is located in Birmingham, Alabama. This item can be shipped to United States.
Features: Night Vision
Generation: Digital
MPN: OD2 DGWSXS520Z
Built-in IR: Without Built-in IR
Brand: ATN
Type: Riflescope