Digital Infrared Night Vision Goggles, 4X Digital Zoom Hands-Free NGV for Helmet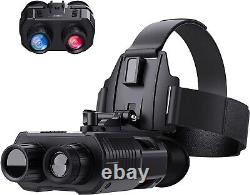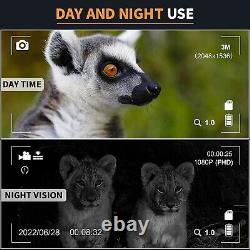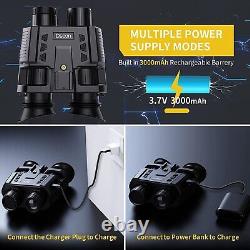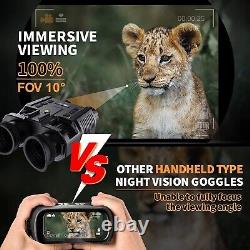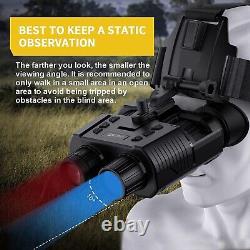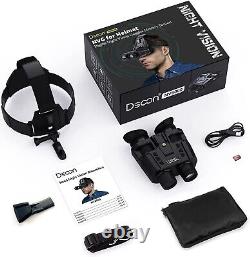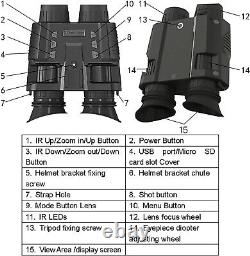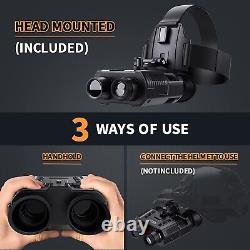 Dsoon Digital Infrared Night Vision Goggles for Adults, 4X Digital Zoom Hands-Free NGV for Helmet (Not Supplied). 3.4 x 8.9 x 6.8 inches.
LONG/SHORT RANGE: 4x digital zoom and a Wide Field of View (FOV) of 10° is critical for far/close-quarters use. 850nm IR LEDs are designed to illuminate everything nearby. The display design of the binoculars allows you to experience the 3D real-time observation effect in an immersive, recording of audio and video. The Helmet Night Vision Binoculars feature a No-Glow INFRARED ILLUMINATOR. The body's unique non-slip and 6-button design is easy to use. Thanks to our powerful 850 NM infrared illuminator, you can hunt, monitor wildlife, explore the wilderness or protect your farm during a pitch-dark night - NO external light needed! EASY TO CHARGE: Built-in rechargeable battery, no need to replace the battery.
The device has 4 hours battery life on constant full infrared, or 7 hours battery life with lower infrared usage. HEADMOUNTED NVG: The Dsoon NVG adds FHD1080p video recording with audio, a wider field of view, a high capacity 3000mAh rechargeable battery, powerful Low Glow 850nm LEDs, and a higher resolution screen.
Using third-party mounts (not supplied), you can also mount the NVG to a military, tactical, or bump helmet. BINOCULAR DESIGN: Greatly reducing the fatigue feeling of long-time observation; Binocular design catering to different groups of people; Ergonomic design, raised buttons can be quickly recognized by touch even in total darkness. Dsoon handheld night vision binoculars with a fixed 4x digital magnification zoom.
With a massive 273 yards of range in the darkness, the NV8000 is an ideal addition to your hunting gear or spy gear setup. Unlike a traditional night vision scope, The NV8000 works both in daylight and at night. Thanks to an integrated microphone, video footage taken by the NV8000 also includes audio recording - A real innovation for digital night vision goggles. Capture your complete night vision experience like never before. Dsoon Red FHD Digital Night Vision Goggles for Helmet. The product comes with a 1x 32GB memory card, 1 x carry case, 1 x head strap, 1x USB data transfer charging cable, 1x neck strap, 1x storage bag, 1x cleaning cloth, 1x multi-language manual. The high-end purposes of our company are making the best products and to protect every customer's rights and interests. If you encounter any problems in use, please let us know! We will respond and offer help within 24 hours to make you feel 100% satisfied.
Dsoon Built-in Rechargeable Digital Hands Free Night Vision Goggles - Day and Night Use - Colorful VS Black & White. The Night Vision Goggles with digital infrared can be used both day and night. Original color scene are displayed without infrared in the daytime. All the scenery presented in front of you is the most realistic color, and the visual distance can reach infinity.
The night scene will turn into a black-and-white movie, and the invisible infrared beam will be used for more concealed monitoring, and the visible distance can reach 984ft. Multiple Color Palettes to Highlight the Target. Four color palettes: Colorful mode, Black & white mode, Luminous green mode, Film mode. Support a one-button switch to identify the location of the target instantly, helping to achieve all-weather observations.