Gthunder Digital Night Vision Goggles Binoculars For Total Darkness Surveillance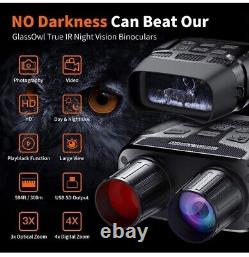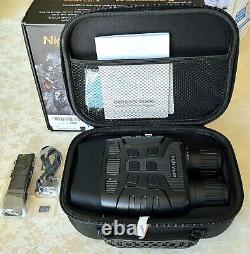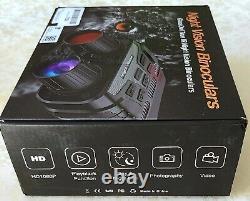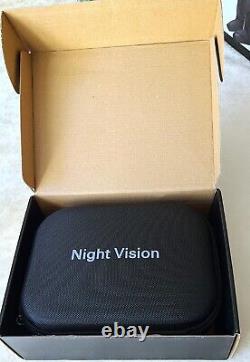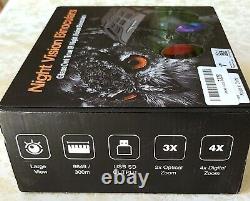 GTHUNDER Digital Night Vision Goggles Binoculars for Total Darkness-FHD 1080P Infrared Digital Night Vision, 32GB Memory Card for Photo and Video Storage-Perfect for Surveillance. HD Night Vision Goggles used in complete darkness-This Owl Night Vision Binoculars is equipped with infrared illuminator, which allows you to view animals or other objects for hours without external light. Don't let your adventure be blocked by the dark night: GTHUNDER designed this efficient and useful digital night vision binoculars for you.
Imagine how cool it is to capture HD photos & videos (without sound) in total darkness. All those files will be saved on 32g memory card included. You can also transfer them to your computer later.
Easy to use for beginners: Thanks to the rugged & durable rubber housing, the Owl Night Vision Scanner has been developed to withstand any harsh environment. Also, it is comfortable to hold and use.
A perfect gift with 3-inch TFT screen: It is easy to view photos instantly on the 3-inch TFT screen. And you can even track targets 986 feet away by using the 4X digital zoom. Besides, you can get the clear viewing via its fully multi-coated 24mm objective. Free 32GB Card and Package: Not only provide free memory cards, but also a sturdy case. It is suitable for storing night vision goggles and taking it out. Thus night vision binocular is the outstanding business among high performance optics industry. Our mission is to provide high-quality and reliable optical products to yours. We try our best to satisfy your needs for outdoor exploration and let you enjoy the fun of hiking, wildlife observation, night fishing, bird watching and camping.
The digital night vision goggle is imaged by CMOS image sensor which is totally different from thermal imaging. In actual using process, you can also turn on the infrared auxiliary light if necessary according to the ambient light. Not taking other factors into consideration, for the digital night vision at the same level, the higher intensity of infrared auxiliary light you use, the farther the IR irradiation range is, and the farther you can see. Compared to its first generation in the same dark environment, this new digital night vision makes it easier to capture the target. Meanwhile, you can view subjects from a farther distance and get a brighter picture.
The viewing distance of digital night vision will definitely increase correspondingly when its magnification increases. But it is better to observe the target within proper magnification range.
Otherwise it will have a strong impact on what you see.