Infrared Digital Night Vision Binoculars, Rechargeable, 40X Zoom & 1300ft Viewin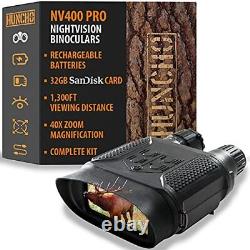 100% Complete, Open Box, Like New. Find your target in complete darkness! Huncho's NV400 night vision binoculars incorporate specialist night surveillance gear including an 850 NM infrared illuminator with a 5x optical zoom and 8x digital zoom for a full 40x magnification. This combination provide you with crisp high quality photos and video while spotting your target in 100% darkness a range of 1300ft.
Save hundreds of dollars with rechargeable batteries! Huncho NV400 Pro Binoculars come with 18350 3.7V 900mAh rechargable batteries including a USB charger and cable. On a full charge, they can continuously work for 4hrs in infrared mode and 10hrs in daylight (non-infrared) mode with a life cycle of up to 500 charges. Store up to 4,000 images or 7 hours of video! Equipped with a Sandisk 32GB microSD card and capable of supporting cards up to 256GB.
This allows you to track your adventure by being able to capture, store, playback and transfer your images and videos all from Huncho NV400 Pro Binoculars. [Stay stealthy in the night] Don't give up you position during a pitch black night with five adjustable infrared levels. These help you view photos and videos instantly (even with glasses) where you can adjust the light output of the 3 screen. You work so hard to track your target, don't give your position away. [The perfect night vision binoculars for adults] Whether it be for the enthusiastic hunter or a gift for the special one, the Huncho NV400 Pro series IR binoculars is an elite addition to your night adventure kit. The Huncho NV400 Pro comes with 18350 premium rechargeable batteries, a USB charger, a protective case, a neck strap, a 32GB microSD card, cleaner cloth, and an easy-to-read user manual. They are compatible with main (Vortex, Stilnend, Bushnell, Vanguard, ATN, Sightmark) tripod mounts. Details: OPTICAL PERFORMANCE Magnification power 5X Digital Zoom 8 steps magnification Angle Of View 9° Objective Aperture 31mm Exit Pupil Distance 45mm F# for Objective lens 1.2 3m? In daytime; Viewing in the darkness up to 400M (monochrome) VIDEO OUTPUT 640x360 resolution TFT LCD OSD menu display CVBS always output with VGA resolution IMAGER Wide Dynamic Range High-sensitivity CMOS Sensor Size 1/3'' Resolution 1920 x 1080 INFRARED LED 3W Infrared LED with 850nm MICRO SD CARD Support SDHC 4GB256GB SD Card Supplied with Sandisk 32GB SD card HARDWARE BUTTONS Power on/off Snap Mode selection Zoom IR switch OPERATION Preview Record JPEG file in SD storage Capture JPEG file in SD storage Playback media file from SD storage POWER External power supply - DC 5V/1A 2 pcs 18350 battery 3.7V (free) Battery life: 10 hours working time with IR off Battery low warning SYSTEM 4 modes (Capture, Video, Playback) Single frame Image Capture Video image Record Playback image Delete image 5 level IR switch SD card format Power save (Off/1 min / 3 min / 50 min) Language: English /Trad. Chinese /Japanese / French /Deutsch System Rest Light Freq. 50/60HZ Date Input Version SIZE size 210mmx145mmx65mm Net weight 750g (without battery) PACKAGE USB cable/ AV cable/ TF card/ Bag/Manual dimension/ctn:470430293mm night vision binoculars goggles nightvision infrared military with binocular for hunting lentes infrarojos nocturna headset big de militares best visión visor nocturno para caza 4th generation digital night-vision adults nightvision goggles goggle nightvisiongoggles. Package Dimensions: 10.8 x 8.3 x 3.7 inches.