LOREX 2TB DIGITAL IP NVR Security Camera System Color Night Vision 4K 8 Cameras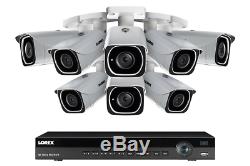 WE ARE AUTHORIZED LOREX DEALER. Mobile World is proud to be one of the top Authorized dealer for Lorex. We provide after sales support unlike most other sellers. 8-channel 4K NVR Security Camera System with 8 weatherproof 4K (8MP) Cameras. The next generation of security monitoring is here. The HDIP88W is capable of 4K video resolution - 4× that of 1080p. It features our 8-channel NR900 network video recorder (NVR) and eight IP bullet security cameras. These cutting-edge cameras will deliver a whole new level of detail and clarity to your home or business surveillance needs thanks to their 8MP (megapixel) image sensor and revolutionary color night vision capabilities. Leave nothing to the imagination and gain that crucial peace-of-mind you need with this top-of-the-line security camera system from Lorex. 4K NVR can support up to 8 cameras. 8 bullet 4K (8MP) IP cameras. Maximum night vision with Color Night Vision. Maximum Capacity 2 x 8TB hard drives. Works With Lorex Cloud App. Capture the details you need with top-of-the-line video technology. Weatherproof and anti-corrosive metal exteriors for year-round protection.
Easy PoE installation with plenty of customizable features through your NVR. 4K clarity will give you the best chance to capture useable evidence should an incident ever occur on your property. It is important to note that this 4K security camera does not require a 4K television or monitor for use. The additional resolution will simply be there for you should you need to capture a screenshot or use the video as evidence. The 8mp image sensor at the core of the LNB8111 bullet security camera is capable of recording a 4K pixel resolution of 3840 x 2160 at 15 frames-per-second (FPS).
This resolution will deliver extremely detailed images and allow for greater digital zooms so you can see further into the distance. One of the foremost benefits of having a 4K security camera is the quality of digital zooms within recordings. Since a 4K security camera has around 4× the amount of pixels as a 1080p security camera, the image will hold up much better as a digital zoom is applied. This means that important details, such as facial features, can potentially still be seen, even if they are deep in the distance of the image.
Sony Exmor R CMOS Sensor. This security camera utilizes an 8.51 megapixel Sony Exmor R image sensor with over 8 million pixels on it. This top-of-the-line image sensor is used to convert the analog signal to digital. It uses back illuminated pixel technology for excellent low light performance and shields the video from noise by passing through an analog noise reduction before conversion and a digital noise reduction after conversion. With traditional front-illuminated image sensors, light energy (photons) has to travel through metal wiring and transistors before reaching the sensor's light sensitive area (photo-diode) on the image sensor.
That is not the case with this security camera, however. Using back illuminated pixel technology, the amount of light that reaches the photo-diode is increased as the light does not have to pass through the layer of wiring. This drastically improves low-light performance and results in less digital noise to keep your security footage clean and clear. Shutter speed, also known as exposure time, is the length of time the image sensor is exposed to light. In both photography and videography, it is vitally important to determine the best shutter speed for the lighting conditions.
In essence, you want a high shutter speed to ensure the least amount of motion blur. However, a high shutter needs a lot of light. So finding the right balance between lighting conditions and shutter speed is a difficult art. But you don't have to worry about any of this.
This security camera utilizes an electronic shutter that automatically adjusts depending on the amount of available light. In fact, the shutter of this camera can move anywhere between 1/3 of a second to 1/100000 of a second to provide you with optimal video with minimal motion blur. Full-color video, even at night.
With most security cameras there is usually an automatic shift from full color to black and white when lighting conditions change at night. This is not the case for the LNB8111B bullet security camera.
It features our revolutionary Color Night Vision (CNV) technology. Produce full-color video, even in low-light conditions. Provide a further level of detail (the color of clothes or cars, for example). Add increased contrast for easier detection and recognition of people and objects.
Please note that ambient lighting is needed for full-color night vision. The image will typically switch to black and white infrared in total darkness to ensure maximum quality night vision. This is the Active Mechanical Lens Filter, otherwise known as the IR Cut Filter, disengaging. Without it, UV and infrared rays would be allowed to enter the lens during the day, causing distortions and discoloration to the video.
This filter also reduces the effects of atmospheric conditions such as haze, to create sharper images with more depth and finer, richer color gradation. When light levels become too low, this filter is disengaged to allow the camera's infrared lights into the lens, which allows you to see even in complete darkness. This IP camera is capable of recording at a real-time 30 frames per second (FPS) rate at 2K resolution. Recording at 30 FPS will provide you with exceptionally smooth on-screen movement and help provide you with more frames to choose from for evidence. Enhanced Security Monitoring with HDR.
Your security camera uses HDR (High Dynamic Range) technology that works to ensure you capture the most important details, regardless of lighting conditions. Dynamic range is measured as the. Between the brightest point and the darkest point of the video. HDR technology uses this difference to automatically adjust the picture's brightness, resulting in optimized, highly-detailed security video.
Enhanced Clarity in Low-Light Situations. Your camera uses DNR (Digital Noise Reduction) technology to filter out noise from low-light settings as well any noise caused by motion.
By eliminating graininess, your camera provides a cleaner, more accurate image with better clarity, sharpness, and improved motion detection, enhancing your HD experience even in the dark! Not only does DNR reduce noise, but it reduces video file sizes as well, giving you greater disc space for storage. Colors must be reproduced authentically in your security camera footage for useable evidence.
Thankfully, this security camera will automatically adjust the color settings so that white areas in real life will be reproduced as white in your footage. Having a proper white balance will then consequently ensure that all other colors will be accurate as well. This camera offers presets and total white balance customization as well. These can be used for additional levels of white balance control to suit your needs. Longer record times with HEVC compression. This security camera uses HEVC compression technology to save you storage space. HEVC stands for High Efficiency Video Compression also known as H. 265 or MPEG-H Part 2, and can compress video up to 40% more than its predecessor AVC (Advanced Video Coding) or H. 264 video compression, with the same quality of video.
This means that you can keep the 4K video quality without the large 4K file sizes. Your 4K security camera is rated IP66. This ensures safe outdoor installations.
Furious winds, torrential downpours, and furious snowstorms are no match for this rugged security camera. So go ahead and place this security camera where you need it most. Its heavy duty metal housing is well equipped to withstand both the elements and vandalism. These Lorex security cameras have been rigorously tested in the most frigid conditions to ensure that they will continue to function even in extreme cold. Tested in temperatures as low as -22°F / -30°C, they are guaranteed to keep you secure, no matter what they endure.
Built from a solid unibody metal housing, the LNB8111B allows for durability while still maintaining a lightweight design. The corrosion-resistant high-grade aluminum body makes this camera perfect for both indoor and outdoor use, protecting it from even the harshest of weather; rain, snow, or hail.
Engineered from the same material that is used in construction of airplanes and cars, this Lorex camera is strong enough to withstand large impacts unlike conventional plastic security cameras. Your security camera only needs a single Cat5e ethernet cable to connect it to a compatible NVR. This cable provides video transmission, power to the camera, a stable network connection, and installation flexibility up to 300ft. (as the camera does not need to be plugged into a nearby power source).
You can also incorporate a PoE switch. If more distance is needed. How to Install Security Cameras.
Understanding 2K and 4K Security Cameras. Not every part of the camera's field of view is equally important. For this reason, this camera, in conjunction with the NVR, can be programmed with up to four different zones that can customized to suit your needs. Within each of these zones, you can adjust the sensitivity (the amount of movement required to register that movement) and threshold (how much movement is required before creating a motion "event").
This means that more important areas, such as a doorway, can be adjusted to record even the slightest bit of movement, while other sections of the frame, like a tree, would need a much higher level of motion to cause the NVR to record or create a motion event. Sometimes there are sections of the camera's field of view that you do not want it to record.
This can be inside windows or perhaps your pool / hot tub, or if you have a small business, the pin pad by the cash register or bathroom entrances. Thankfully, this camera features a privacy masking feature that will literally black out these sections within the recordings. To utilize this feature, enter your camera settings within the NVR and draw a square or rectangle over the areas you wish to block out. There's no need to worry about making sure the camera is the "right side up" while installing it. You can easily change the visual orientation via the NVR.
The video can be rotated 90°, 180°, and 270°. This feature is especially handy if installing a camera on the side of a wall, for instance. The video can also be flipped upside down and mirrored, in case of ceiling mounted cameras, so the video feed will be properly orientated. Reliable security grade HDD pre-installed.
Safely store recorded security footage onto the 2TB security certified hard drive. Not your ordinary hard drive, this HDD is engineered to be in the constant operation and can even continue to record while you watch recorded footage.
Pre-schedule recording times or adjust the NVR to record at a lower resolution to extend available hard drive space. Recording times will vary based on 2K or 4K resolution recording. Visit our Hard Drive Calculator. To estimate your desired specifications. 4K Ultra HD 8MP Resolution (4 x 1080p).
Digital IP / RJ45 connection. Analog BNC / RG59 connection. Connect cameras to NVR or to router/LAN.
Cameras require wired connection to DVR. All video footage is safely stored on the security grade hard drive located within the recorder.
With or Without the Internet. Standalone camera systems do not need the internet to operate. However, an internet connection will be necessary if you wish to use a smartphone, tablet or computer to access features such as remote monitoring. Connects directly to TVs and Monitors. Easily watch live video feeds or review video footage on most Monitors or HD TVs by using the included HDMI cable.
Security NVRs will connect to IP cameras using CAT5 network cables and will store pre-compressed video footage from IP cameras. 2K Super HD Resolution (2×1080p Full HD).
2K resolution offers twice the resolution of 1080p with approximately 2000 horizontal pixels. This new level of details will vividly improve the video quality of your security footage. 24/7 100% Duty cycle hard drive pre-installed. The hard drives are designed to work in a security environment, including simultaneous recording & playback from various streams.
Lorex Cloud Connection and Apps. Lorex Cloud will help simplify and organize your life by keeping track of all your security cameras from anywhere in the world on any iPhone®, iPad® or Android® devices. 8 channel, 4K ultra HD network video recorder. Real-time recording up to 8MP on all channels - 4× the detail of 1080p.
8/16 built in PoE (Power over Ethernet) ports providing video and power over a single Ethernet cable. RapidRecap® - see the day in a minute with hours of activity compiled into a short video summary. Lorex Cloud apps for live viewing, playback, video recording & snapshots (iPhone® / iPad® / Android). PC and Mac compatible - Lorex Cloud video management software gives you complete control over your security system from anywhere. 24/7 security-grade pre-installed hard drive. Expandable high capacity storage up to 16TB (2×8TB HDD). Automatically detects compatible IP cameras in the network. 4K video output - view multiple HD channels at once in full resolution on a 4K TV. 264 video compression offers reduced file size and improved network performance for remote viewing. Mirror hard drive recording - secure your recordings by backing up footage to an internal hard drive at the same time as recording to the primary hard drive. Pentaplex Operation - view, record, playback, back up & remotely control the system simultaneously. Convenient front panel button controls. Accurate time stamps with NTP & daylight savings time.
Instant backup of live video to a USB flash drive. Automatic firmware upgrade over the Internet ensures your system is secure and up-to-date. Push notifications of motion events. Continuous, scheduled, and motion recording. Dual video outputs (HDMI and VGA) to connect multiple monitors.
HDMI cable included for simple connection to HD amp; 4K TVs. Simultaneous View, Record, Playback, Backup & Remote Monitoring. 8ch: 8 PoE, 16/32ch: 16 PoE.
1 Line IN (RCA) for service only. 1 Line OUT (RCA) for service only. 1 at the back, 1 at the front. 3840×2160, 1920×1080, 1280×1024, 1280×720, 1024×768. Lorex IP PTZ cameras only.
8ch: 1/4/8, 16ch: 1/4/8/9/16, 32ch: 1/4/8/9/16/25/36. 8ch: 240fps NTSC / 200fps PAL, 16ch: 480fps NTSC / 400fps PAL, 32ch: 960fps NTSC / 800fps PAL. USB Mouse, IR Remote Control, Front Panel Buttons. Automatic over the Internet & via USB device and network.
Automatic time sync by NTP server. Up to 4K (3840×2160), 1080p (1920×1080). Per camera for different resolutions. By hour, by day, by recording mode, by motion, by alarm, by channel. Watch-Dog, auto-recovery after power failure.
Up to 1,000 lines for motion detected, configuration, changes, connects/disconnects and video loss. Up to 2 HDDs (SATA). Up to 2×8TB (16TB Max). USB Flash Drive & HDD. Windows / Mac OS X.
Client Software (PC & Mac). Full setup configuration over network.
HTTP, IPv4/IPv6, TCP/IP, UPNP, RTSP, UDP, SMTP, NTP, DHCP, DNS, PPPOE, DDNS, FTP, IP Filter. 320Mbps total, 488192kbps per camera.
130W (Max 25W per Camera). Unit Dimensions (W × D × H). 14.7 × 12.9 × 2.1 / 375 × 327 × 53mm. 8ch: 5.1lbs / 2.6kg, 16/32ch: 13.2lbs / 2.7kg. 14° 131°F / -10° 55°C.
8MP IP cameras are required to take advantage of 4K recording. Requires a high speed internet connection and a router (not included). A minimum upload speed of 3.5Mbps is required for the best video performance. Up to 3 devices may connect to the system at the same time. Recording time may vary based on recording resolution & quality, lighting conditions and movement in the scene.
Compatible with Lorex PoE HD IP cameras only. Mirror recording requires a second hard drive (not included) to be installed in the NVR. Mirrored hard drive must be as large or larger than the primary hard drive to backup all recordings.
Backup begins from when the mirrored hard drive is installed and configured. Both firmware and software must be updated to latest version to ensure remote connectivity. Always update to the latest software after upgrading the NVR firmware. 4K Ultra HD IR Bullet IP Camera Features.
UltraHD 4K image sensor delivers 4x the detail of 1080p. 4K video recording provides ultraHD quality even when zoomed, offering clearer identification in video evidence. IR night vision range up to 130ft (40m) in ambient lighting and 90ft (27m) in total darkness. ClearNight imaging for improved low light performance and improved recording efficiency. 265 offers significant bandwidth and video storage savings over older compression technologies, extending the amount of video stored on the hard drive. Intelligent compression saves recording space by optimizing video performance based on available bandwidth. Wide angle 88° field of view (horizontal). Simple camera installation using a single CAT5e cable with Power over Ethernet (PoE).
100ft (30m) cable suitable for surface and in-wall installation. Extend the camera's video and power with a single Ethernet cable up to 300ft (91m) from the recorder. Single-screw bracket adjustment for faster installation.
Cold climate capability (-22°F / -30°C). Weatherproof metal housing for outdoor & indoor installation (IP66 Rated).
Color Night Vision delivers full color nighttime video for improved recognition of objects in low light conditions. ONVIF profiles S & T approved. H: 3840 × V: 2160. 1/3 (1/4) 1/10,000 seconds.
0.5 lux without IR, 0.3 lux with IR. 4mm F1.6 / Fixed. RJ45 Ethernet / 12V DC Power. 130ft (40m) / 90ft (27m). PoE (Power over Ethernet) Class 0 / 12V DC.
22° 140°F / -30° 60°C. 1 × IP Bullet Camera. 1 × 100ft Ethernet Cable. Compatible with the Lorex HD LNR600 Series only. Stated IR illumination range is based on ideal conditions in typical outdoor night time ambient lighting and in total darkness.
Actual range and image clarity depends on installation location, viewing area, and light reflection / absorption level of object. In low light, the camera will switch to black and white. Not intended for submersion in water.
Installation in a sheltered location recommended. Full color nighttime video typically switches to black & white IR night vision below 1 lux to ensure optimal low-light image quality. All trademarks belong to their respective owners. No claim is made to the exclusive right to use the trademarks listed, other than the trademarks owned by Lorex Corporation.
We reserve the right to change models, configurations or specifications without notice or liability. Product may not be exactly as shown.
The item "LOREX 2TB DIGITAL IP NVR Security Camera System Color Night Vision 4K 8 Cameras" is in sale since Thursday, January 11, 2018. This item is in the category "Consumer Electronics\Surveillance & Smart Home Electronics\Home Surveillance\IP & Smart Security Camera Systems". The seller is "mobile_world_llc" and is located in Indianapolis, IN.
This item can be shipped to United States.
Brand: Lorex
Connectivity: Wired
MPN: Does Not Apply
Camera Connectivity: IP/Network - Wired
Camera Type: Bullet
DVR/NVR Channels: 8
Number of Cameras: 8
Number of Channels: 8
UPC: Does not apply