LOREX 3TB DIGITAL POE IP NVR Security Camera System Night Vision 8 HD Cameras 2K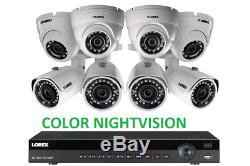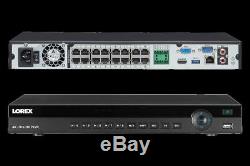 WE ARE AUTHORIZED LOREX DEALER. Mobile World is proud to be one of the top Authorized dealer for Lorex. We provide after sales support unlike most other sellers. HD NVR supports up to 16 cameras.
4 bullet and 4 dome 2K cameras. 4MP security cameras leave nothing to question. They provide double the resolution of 1080p and will add a heightened level of detail and clarity to your security footage. The higher resolution also offers you an increased ability to digitally zoom in on distant objects without drastically reducing image quality. Save up to 40% storage space with HEVC otherwise known as H.
Thanks to this improved compression, HEVC delivers significantly better video quality with similar file sizes as H. This means that HEVC will keep the 2K video quality, but save you plenty of storage space. It will also let you watch the highest quality security footage while you are away from your home or business without large data transfers.
Enhanced Security Monitoring with HDR. Your security camera uses HDR (High Dynamic Range) technology that works to ensure you capture the most important details, regardless of lighting conditions. Between the brightest point and the darkest point of the video. HDR technology uses this difference to automatically adjust the picture's brightness, resulting in optimized, highly-detailed security video.
Enhanced Clarity in Low-Light Situations. Your camera uses DNR (Digital Noise Reduction) technology to filter out noise from low-light settings as well any noise caused by motion. By eliminating graininess, your camera provides a cleaner, more accurate image with better clarity, sharpness, and improved motion detection, enhancing your HD experience even in the dark! Not only does DNR reduce noise, but it reduces video file sizes as well, giving you greater disc space for storage. Color Night Vision and True HDR. Color Night Vision (CNV) lets you see fully colored images in low-light conditions. For clear identification at night. Most security cameras rely on IR night vision in low-lighting, which only provides black & white images. Capture more informative video evidence with full-color images. For a security camera that performs in all sorts of challenging lighting conditions. True High Dynamic Range (HDR). Improves image clarity in high-contrast lighting, revealing details in extremely bright and dark areas of the image.
NVR systems include a Network Video Recorder (NVR) and HD digital IP security cameras. This type of technology uses Cat5e ethernet cables.
NVR systems feature HD recording, remote viewing, and motion notifications. Higher resolutions (2K / 4K) and frame rate. Power-over-Ethernet connectivity powers cameras through the NVR.
Up to 32 available channels. Secondary hard drive slot available. Find the best system for you.
Lorex Secure app for smartphones and tablets. Connect this NVR to our Lorex Secure app for easy remote monitoring and more. This easy-to-use app allows you to view live and recorded video from your security cameras on your smartphone or tablet for peace of mind no matter where in the world you are. This app will also enable convenient push notifications for motion-triggered events so you can always be in-the-know.
Other app features include free cloud storage, RapidRecap. See the entire day in a minute. Use the Lorex Secure app to create a RapidRecap.
This feature will let you see more while watching less by compiling up to 12 hours worth of activity into a short video summary. Watch as all motion events are superimposed onto your screen simultaneously with accurate timestamping to tell you what happened and when. Connect IP cameras to the integrated power-over-ethernet (PoE) ports for a truly plug-and-play surveillance experience.
Each camera only requires a single ethernet cable to connect it to the NVR thanks to PoE technology. Simply insert one side of the ethernet cable to the camera and the other to the NVR - and your cameras will be ready.
This all-in-one cable provides both power to the camera and video transmission up to 300ft / 91m. This means that you do not need to install your security cameras to a power outlet nearby. Motion detection & other smart monitoring. Our security systems come with motion detection as a standard feature. This allows you to stay on top of things happening around your property.
Weatherproof & cold climate capable. This rugged, weatherproof camera is. To ensure protection against all types of bad weather. Be it heavy wind, rain, or snow, we have engineered our cameras to withstand harsh North American climates.
The camera is guaranteed to stand up against. Temperatures as low as -22°F (-30°C). To ensure year-round security monitoring that never stops working. The cable pass-through design combined with a durable aluminum alloy housing will give would-be vandals a reason to think twice. These Lorex security cameras have been rigorously tested in the most frigid conditions to ensure that they will continue to function even in extreme cold.
Tested in temperatures as low as -22°F / -30°C, they are guaranteed to keep you secure, no matter what they endure. Built from a solid unibody metal housing, the LNB4173B allows for durability while still maintaining a lightweight design. The corrosion-resistant aluminum bodies make these cameras perfect for both indoor and outdoor use, protecting them from even the harshest of weather; rain, snow, or hail. Engineered from the same material that is used in construction of airplanes and cars, these Lorex cameras are strong enough to withstand large impacts unlike conventional plastic security cameras.
3TB security grade hard drive. The sixteen-channel NR900 Series NVR contains a massive 3TB security certified hard drive. This type of hard-drive is not your run-of-the-mill household hard drive. It is specially designed for surveillance.
It can be in constant use, and can even continue to record while you review footage. You can also easily customize the NVR to set your cameras to record at a lower resolution for improved recording efficiency. Recording only scenes with movement or between scheduled times of the day can also extend hard drive space.
Recording times will vary based on 2K or 4K resolution recording. To estimate your desired specifications. Digital IP / RJ45 connection.
Analog BNC / RG59 connection. Connect cameras to NVR or to router/LAN.
Cameras require wired connection to DVR. All video footage is safely stored on the security grade hard drive located within the recorder. Connects directly to TVs and Monitors. Easily watch live video feeds or review video footage on most Monitors or HD TVs by using the included HDMI cable. Security NVRs will connect to IP cameras using CAT5 network cables and will store pre-compressed video footage from IP cameras. 2K Super HD Resolution (2×1080p Full HD). 2K resolution offers twice the resolution of 1080p with approximately 2000 horizontal pixels. This new level of details will vividly improve the video quality of your security footage.
24/7 100% Duty cycle hard drive pre-installed. The hard drives are designed to work in a security environment, including simultaneous recording & playback from various streams. ONVIF is an open standard protocol for IP Network Cameras to communicate easily with Network Video Recorder (NVR) devices. 16 channel, 4K ultra HD network video recorder. Real-time recording up to 8MP on all channels - 4× the detail of 1080p.
8/16 built in PoE (Power over Ethernet) ports providing video and power over a single Ethernet cable. RapidRecap® - see the day in a minute with hours of activity compiled into a short video summary. Lorex Secure apps for live viewing, playback, video recording & snapshots (iPhone® / iPad® / Android).
PC and Mac compatible - Lorex Cloud video management software gives you complete control over your security system from anywhere. 24/7 security-grade pre-installed hard drive. Expandable high capacity storage up to 16TB (2×8TB HDD). Automatically detects compatible IP cameras in the network. 4K video output - view multiple HD channels at once in full resolution on a 4K TV.
264 video compression offers reduced file size and improved network performance for remote viewing. Mirror hard drive recording - secure your recordings by backing up footage to an internal hard drive at the same time as recording to the primary hard drive. Pentaplex Operation - view, record, playback, back up & remotely control the system simultaneously. Convenient front panel button controls. Accurate time stamps with NTP & daylight savings time. Instant backup of live video to a USB flash drive. Automatic firmware upgrade over the Internet ensures your system is secure and up-to-date. Push notifications of motion events.
Continuous, scheduled, and motion recording. Dual video outputs (HDMI and VGA) to connect multiple monitors. HDMI cable included for simple connection to HD amp; 4K TVs. Simultaneous View, Record, Playback, Backup & Remote Monitoring.
8ch: 8 PoE, 16/32ch: 16 PoE. 1 Line IN (RCA) for service only.
1 Line OUT (RCA) for service only. 1 at the back, 1 at the front. 3840×2160, 1920×1080, 1280×1024, 1280×720, 1024×768. Lorex IP PTZ cameras only. 8ch: 1/4/8, 16ch: 1/4/8/9/16, 32ch: 1/4/8/9/16/25/36. 8ch: 240fps NTSC / 200fps PAL, 16ch: 480fps NTSC / 400fps PAL, 32ch: 960fps NTSC / 800fps PAL. USB Mouse, IR Remote Control, Front Panel Buttons.
Automatic over the Internet & via USB device and network. Automatic time sync by NTP server.
Up to 4K (3840×2160), 1080p (1920×1080). Per camera for different resolutions.
By hour, by day, by recording mode, by motion, by alarm, by channel. Watch-Dog, auto-recovery after power failure. Up to 1,000 lines for motion detected, configuration, changes, connects/disconnects and video loss. Up to 2 HDDs (SATA). Up to 2×8TB (16TB Max). USB Flash Drive & HDD.
Windows / Mac OS X. Client Software (PC & Mac). Full setup configuration over network.
HTTP, IPv4/IPv6, TCP/IP, UPNP, RTSP, UDP, SMTP, NTP, DHCP, DNS, PPPOE, DDNS, FTP, IP Filter. 320Mbps total, 488192kbps per camera. 130W (Max 25W per Camera). Unit Dimensions (W × D × H). 14.7 × 12.9 × 2.1 / 375 × 327 × 53mm. 8ch: 5.1lbs / 2.6kg, 16/32ch: 13.2lbs / 2.7kg. 14° 131°F / -10° 55°C. 8MP IP cameras are required to take advantage of 4K recording. Requires a high speed internet connection and a router (not included). A minimum upload speed of 3.5Mbps is required for the best video performance. Up to 3 devices may connect to the system at the same time. Recording time may vary based on recording resolution & quality, lighting conditions and movement in the scene. Compatible with Lorex PoE HD IP cameras only. Mirror recording requires a second hard drive (not included) to be installed in the NVR.
Mirrored hard drive must be as large or larger than the primary hard drive to backup all recordings. Backup begins from when the mirrored hard drive is installed and configured. Both firmware and software must be updated to latest version to ensure remote connectivity. Always update to the latest software after upgrading the NVR firmware.
4MP High Definition IP Camera Features. High definition 4MP image sensor delivers double the detail of 1080p. 4MP video recording provides HD quality even when zoomed, offering clearer identification in video evidence. Color Night Vision delivers full color nighttime video for improved recognition of objects in low light conditions. IR night vision range up to 130ft (40m) in ambient lighting and 90ft (27m) in total darkness. ClearNight imaging for improved low light performance and improved recording efficiency. True High Dynamic Range (HDR) improves image clarity in high-contrast lighting, revealing details in extremely bright and dark areas of the image. Intelligent compression saves recording space by optimizing video performance based on available bandwidth. Wide angle 83° field of view (horizontal).
Simple camera installation using a single CAT5e cable with Power over Ethernet (PoE). Extend the cameras video and power with a single Ethernet cable up to 300ft (91m) from the recorder. Cold climate capability (-22°F / -30°C). Weatherproof for outdoor & indoor installation (IP66 Rated). H: 2688 × V: 1520.
0.38 lux without IR, 0.28 lux with IR. 3.6mm F2.0 / Fixed. RJ45 Ethernet / 12V DC Power Barrel (optional).
130ft (40m) / 90ft (27m). PoE (Power over Ethernet) Class 1 / 12V DC. 22° 140°F / -30° 60°C. 0.9lbs / 0.4kg. 1 × Bullet IP Camera.
1 × 100ft Ethernet Cable. Compatible with all Lorex HD NVRs except for LNR100 / LNR200 / LNR300 Series. Full color nighttime video typically switches to black & white IR night vision below 1 lux to ensure optimal low-light image quality. Stated IR illumination range is based on ideal conditions in typical outdoor night time ambient lighting and in total darkness.
Actual range and image clarity depends on installation location, viewing area, and light reflection / absorption level of object. In low light, the camera will switch to black and white. Not intended for submersion in water.
Installation in a sheltered location recommended. 4MP HD IP Security Camera Features. IR night vision range up to 125ft (38m) in ambient lighting and 82ft (25m) in total darkness. 60ft (18m) UL-compliant cable suitable for surface and in-wall installation. 125ft (38m) / 82ft (25m).
PoE (Power over Ethernet) Class 3 / 12V DC. 1 × Dome Security Cameras. 1 × 60ft Ethernet Cable. All trademarks belong to their respective owners.
No claim is made to the exclusive right to use the trademarks listed, other than the trademarks owned by Lorex Corporation. We reserve the right to change models, configurations or specifications without notice or liability.
Product may not be exactly as shown. The item "LOREX 3TB DIGITAL POE IP NVR Security Camera System Night Vision 8 HD Cameras 2K" is in sale since Thursday, January 11, 2018. This item is in the category "Consumer Electronics\Surveillance & Smart Home Electronics\Home Surveillance\IP & Smart Security Camera Systems". The seller is "mobile_world_llc" and is located in Indianapolis, IN.
This item can be shipped to United States.
Brand: Lorex
Connectivity: Wired
MPN: Does Not Apply
Camera Connectivity: IP/Network - Wired
Camera Type: Bullet
DVR/NVR Channels: 16
Number of Cameras: 8
Number of Channels: 16
UPC: Does not apply