Mileseey Digital Infrared Night Vision Binoculars Goggles Hunting/Surveillance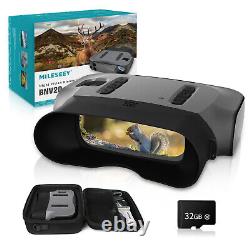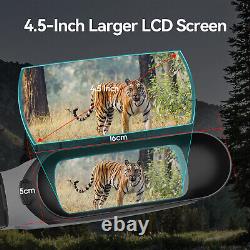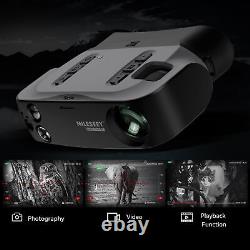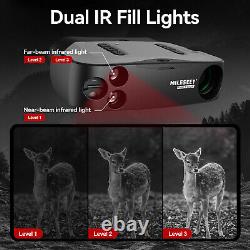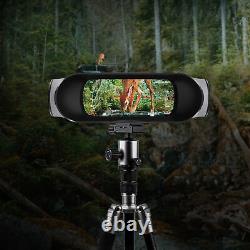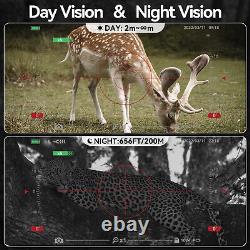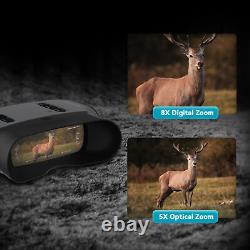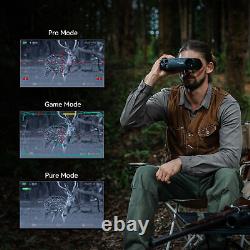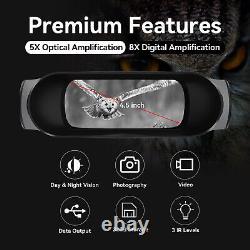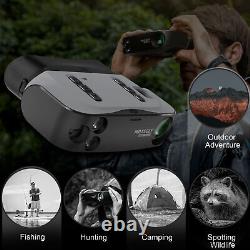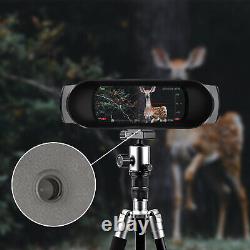 4.5' HD IPS DISPALY SCREEN. This Night vision goggles build in 4.5' HD IPS Dispaly Screen, Promising a wider viewing window and a visual experience unlike any other. 16x5cm rubber lip for the eye contour more flexible to better fit the shape of the face. Glasses-wearers to enjoy the same uninterrupted immersive experience. Built-in high- and low-beam dual IR lighting, 3-stage setting of the backlight, depending on the ambient light, get a clearer and brighter view. Manual adjustment of the objective lens by rotating the wheel, 5X optical zoom, 8X digital zoom, full-broadband coated lenses, the zoom Image is not distorted and achieves high definition effect. Low light observation distance: 2 m8, viewing range in the complete darkness 200 m. The maximum battery life can be up to 8 hours (without infrared light on), up to 2.5 hours with low-beam IR illuminator on and 4 hours with high-beam IR illuminator.
Come with 32GB Memory card, saving more than 1000 pictures. Equipped with a USB, transfer data to the computer to view the recorded video or photo and recharge automatically.
MiLESEEY infrared night vision device equipped with 1/4' screw thread for a tripod. You are able to let the binoculars film quietly on a tripod with top stabilization and all. Suitable for various outdoor activities, such as hunting, wildlife tracking, search and rescue, camping, observation, and night fishing. Package include:1x binoculars night vision, 1x protective case, 1x shoulder strap, 1x neck strap, 1x data cable, 1x 32GB TF card, 1xuser manual, 1xcleaning cloth. The BNV20 night vision is a practical and easy-to-use night device works well both in low light and pitch dark. It features 3 levels of infrared illumination along with an innovative widescreen viewing monitor to adjust viewing for specific lighting conditions. Recharge Battery: 2000mA (up to 8h). Internal Screen: 3 Inch IPS color screen. Display Screen: 4.5 Inches. 1 x BNV20 Night Vision.
1 x 32 GB TF card. MiLESEEY BNV20 Night Vision Binoculars- Light Up Your Night! MiLESEEY BNV20 digital night vision binoculars feature with high-sensitivity 1/3''COMS sensor and image-intensifier tube, 35mm objective aperture and 10° angle of view offer you more full and clear field. The night goggles are not only infrared night vision binoculars, but also infrared cameras with a range of 656ft /200 m, providing you with 1280 x 720 HD photos and video in vivid detail.
Perfect night vision binoculars for day and night outdoor activities, hunting, patrol detection, security and surveillance, search and rescue, camping, wildlife and landscape viewing. This night vision with high- and low-beam dual IR lighting, effortlessly adapts to both short- and long-distance, bringing that which hides in the darkness into flawless light and focus. Mileseey BNV20 is a hand-held digital night vision goggle that utilizes an infrared CMOS sensor, which provides outstanding image quality no matter day or night! MiLESEEY BNV20 is waterproof for daily care, and it works perfectly even under extreme weather conditions. Be careful not to use in a heavy rain for a long time or soaked in the water.
Immerse in hands-free operation by taking advantage of MiLESEEY's in-built screws for quick and easy tripod attachment. Enjoy elevated stability and comfort while you stand back and soak up the sights in the great outdoors.
4.5 Inches Large Screen. Each MiLESEEY Night Vision Binoculars comes equipped with a 4.5 large screen, promising a wider viewing window and a visual experience unlike any other.
BNV20 with a USB port, You can connect to PC through type-c cable to check or download precious images/videos to avoid loss. It has never been so easy to share with your friends.
Simultaneously, It also support direct charging while connect with the PC.