Never Used! Trijicon IR PATROL M250XR 60mm BLACK IRMO-250XR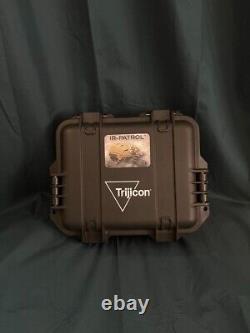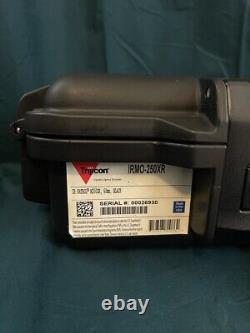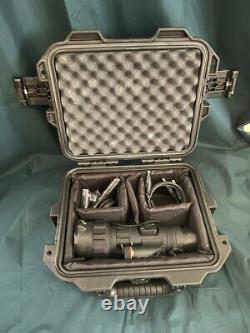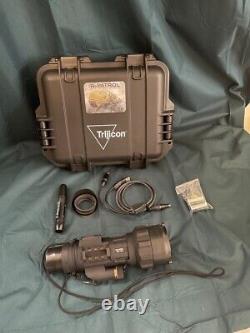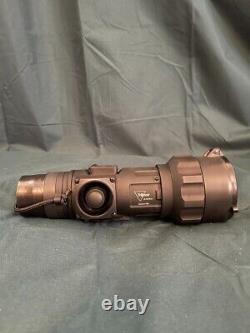 Trijicon IR PATROL M250XR 60mm BLACK IRMO-250XR. Trijicons Electro Optics IR-PATROL M250 Extended Range monocular has been developed for the long range thermal viewing needs law enforcement and military personnel. The 36x digital magnification capabilities of the M250XR make it the ideal thermal viewing optic when conducting long range surveillance in dark conditions. The M250XR can be hand held but ideally can be mounted on a tripod for stability, especially when viewing at high magnifications. Trijicon IR-PATROL monoculars feature a 640x480 12 micron thermal core that gives the viewer a surprisingly crisp image and allows for quick target acquisition.
Mil-Spec 6061-T6 Aluminum construction and rugged design means this device is ready for serious applications. 60 Hz Frame Rate allows for efficient tracking of both moving and still targets. Recessed thumb-stick is intuitive and makes it easy to control the unit with or without gloves. Edge Detect mode eliminates night-blindness risk by only showing the edges of warm targets on a dark display. Image Capture saves up to 60 images for surveillance or recon operations.
MAXPOL allows for White Hot or Black Hot display with 3 brightness settings for each. Up to two hours of battery life at 60 Hz and close to three hours at 30 Hz. Optional battery 2nd battery adapter allows for 2x the runtime (not included). This item may be regulated for export by the U. Department of State or US Department of Commerce.
Hand Held / Tripod Mounted. White Hot / Black Hot / Edge Dectect. 8.0" L / 3.3" W / 3.0 H. 4.5x Optical / 36x Digital.