NEW AGM Neith DS32-4MP DIGITAL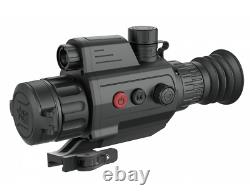 The Neith DS is a digital day & night vision scope developed for 24 hours operation in all ambient lighting conditions. This digital rifle scope has an advanced ultra-low light optical detector and 1920×1080 OLED display - providing full-color clarity in daytime and classic black & white viewing at night. The Neith supports multiple display modes including, day mode, night mode, defog mode, and more.
The scope is equipped with built-in memory storage for video recording and image capturing. A Wi-Fi module for live video streaming and video/ image recording via the AGM Connect application is also available.
A built-in long-range infrared illuminator provides advanced viewing capabilities and is ideally suited for operations in low-light / no-light conditions. One 18650 rechargeable battery provides long continuous. An external 5V power bank (battery pack) can be easily connected via a USB connector for a significant increase in operating time.
2560×1440 ultra-low light optical detector. Detection range up to 400 m. On-board video recording and image capture. 64 GB built-in EMMC memory. Replaceable and rechargeable Li-Ion battery.
Minimal Focusing Distance 3 m. 0.49 OLED display, 1920×1080, 50 FPS.
One 18650 Rechargeable Li-ion battery. 5 VDC/2 A, USB Type-C interface. 400 m (with IR 850 nm ON). 30°C to 55°C (-22°F to 131°F).
8.1° × 6.1°. 465 g (1.03) oz without battery. Picture In Picture Mode (PIP).