Night Vision 8/4X Zoom Binoculars Infrared Viewing Digital Head Mount Goggles US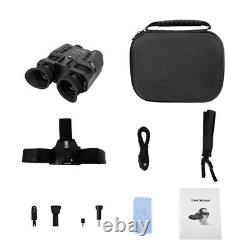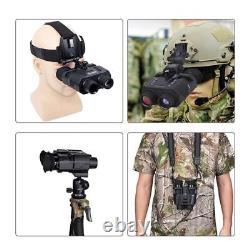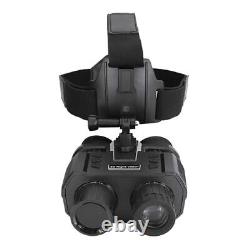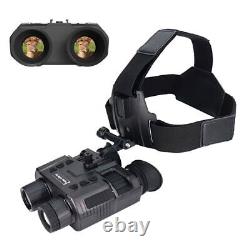 4XZoom Night Vision Binoculars 850nm Infrared Digital Head Mount Goggles Hunting. Night Vision Goggles Head Mounted Binoculars 8/4X Zoom HD Infrared for Hunting. Megaorei 720P 850nm Night Vision Scope Optical Sight Telescope Hunting Camera.
1080p/720p HD Photo & Video Digital Laser IR Night Vision Scope Monocular Camera. 8X Zoom Digital Head-mounted Infrared Night Vision Binoculars Telescope 400M.
In complete darkness, about 300-400 meters of sight distance. 3 meters to infinity in low light. 3W 850nm strong infrared spotlight, 7-speed infrared brightness adjustment. 2.7-inch 640480 ultra-high-definition TFT screen, 6.5 times larger window eyepiece magnifying glass, equivalent to 17.5-inch screen viewing. 4 color effects: color, black and white, moonlight green, film negative (negative).
1.3 million pixels, star-level infrared enhanced CMOS sensor. Hunting, Scouting, Tactics, Security and Surveillance, Camping Fun, Cave Exploring, Night Fishing and Boating, Wildlife Observing and Photographing, and more. Three ways to use, can be used portable, can be used with professional special police helmet, can be used by hand. Ultra-bright infrared light for long-distance observation at night?
Starlight-level SENSOR, low-light long-distance observation? 2.7-inch 640480 ultra-high-definition TFT screen, 6.5 times larger window eyepiece magnifying glass, equivalent to 17.5-inch screen viewing?
The observation process can be photographed/video. Compared with similar products in the market. Starlight level SENSOR, you can observe from a distance without turning oninfrared light under low light condition, similar products in the market can't be seen without turning oninfrared light under low light condition. Ultra brightinfrared light have a distance of 300-400m at night, and the market equivalent product is 150M? Multi-button simple operation, 12 languages optional, support date and time setting and date stamp imprint, user experience is very good; similar products in the market have simple functions, relatively complicated operations, and poor user experience? 2.7" Ultra HD TFT, equipped with 6.5x eyepiece magnifying glass observation window; similar products in the market are 2.0" TFT small size, low resolution, the screen is not sharp enough after being enlarged by the eyepiece? Diameter 25mm, 35mm focal length, super-large aperture lens, 10x optical magnification, 8x digital zoom, a total of 108=80x magnification to magnify and observe distant scenes, the lens of similar products in the market is 5-8 times magnification plus 2 times Digital zoom, no better magnification observation effect.. You can take photos and videos to record the observation object at that time; similar products in the market only have an observation function, not a camera function. 2.7-inch 640480 ultra-high-definition TFT screen, 6.5 times larger window eyepiece magnifying glass. Micro card, up to 32GB (Not include).
1min/3 min/ 5 min/ 10 min/OFF. 3W, 850nm strong infrared spotlight. View Distance In Complete Darkness. View Distance In Low Light. Color, black and white, luminous green, infrared light.
Support to set date and time. Date and time stamp on photo and video files. USB cable, portable headband holder, helmet holder, manual. 3D Night Vision Binoculars Goggles Head Mount Infrared Night Vision Device. 3200-250 meters viewing distance in darkness.
5High power IR, 7 levels adjustment brightness. 64 color effects: Color, Black and white, Moonlight Green, Film negative (negative). Photo Resolution:3M(2048x1536), 2M(1600x1200), 1M(1280x960), VGA(640x480). LCD display:Built-in dual-screen 1.4390390 TFT inner screen, switch freely between single-screen and dual-screen, 7 times magnification. Eyepiece:Fully independent dual-screen binocular technology, can adjust the visual compensation of left and right eyes independently(refractive adjustment range +/-3, that is, nearsightedness, farsightedness 300 adjustment compensation), 7 times magnification.
IR LED:3W, 850nm high power IR, 7 levels of IR brightness adjustment. Lens:F1.4 Aperture, f=25mm, FOV=10°.
Observation distance:200-250 meters all dark observation distance, 1minfinity Weak light observation distance. Power supply:3.7V, 3000mAh lithium battery. Operation&Storage Temperature: Operation Temperature:-20? Features: 100% Brand New Color: Black/Tan Material Construction: Light Weight, Aerospace Grade Metal.
Designed to provide a solid mounting platform with multiple adjustment points. Low Profile shape on the helmet. Attach NVG dummy like PVS15 / 18 (Op type Mount shroud was not included). Fit for OPS Core Shroud / Fast Base Jump Helmet / Standard Mich Mount Base.
Specifications: This NVG Mounting System is unique that it provides two modes of operation. The G24 has the famous breakaway feature that provides the wearer the protection from neck or head injury.
The first mode allows the mount to "break away" from the base under a stressed condition such as getting snagged during fast roping or hitting a hard object when entering or exiting a vehicle or building. With this breakaway feature serious neck injuries and equipment damage can be minimized or avoided. The second mode allows the Universal NVG Mount to securely lock the mount to the base.
Description: Breakaway Feature allows Mount to Break Away under Stress, or to Securely Lock in Place by Means of a Breakaway Lever. Lock Release Lever allows NVG height to be easily adjusted up or down, then secured. A Mount Release Lever allows the operator to easily set the desirable mode (breakaway or locked), depending upon operational needs. An ergonomically placed Flip Release Button allows the Mount to "fip up" to a stowed position when the goggle is attached. This pivot mechanism is simple and robust by design and cannot loosen over time.
A Tilt Adjustment Knob allows the operator to fine adjust the tilt angle of the NVG. A Fore/Aft Release Lever allows for fore/aft travel of the goggle. Releasing the lever allows the operator to set the fore/aft position of the goggle. An ergonomically placed NVG Release Button allows for one handed release of the NVG.
Dimensions (Operational) 3.98" L x 2.60" W x 2.40 H. 36 lb (5.76 oz).
Fore/Aft Travel: 1.10 Total Travel. Package: One piece L4 G24 NVG Mount. For all orders, please note that.
Thanks for your support and understanding! OUR WORKING Time(Beijing): 9:00am6:00pm(MondayFriday). We will be happy to serve you. Our goal is to make sure you are happy and have a pleasant shopping experience with us. We will do our best to resolve the issues.
Please give us the opportunity to resolve any problem. It is impossible to address issues if we do not know about them.