Night Vision Goggles, Infrared Digital Binoculars, Rechargeable Night-Vision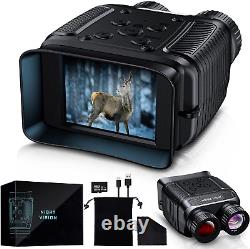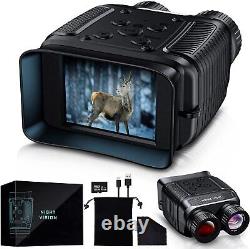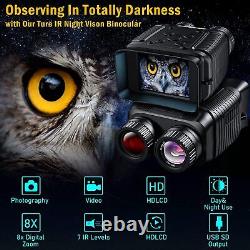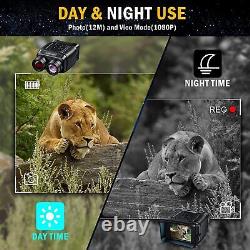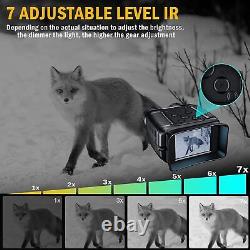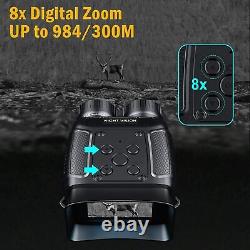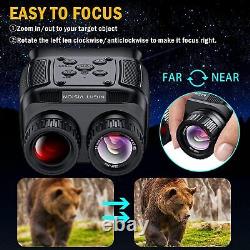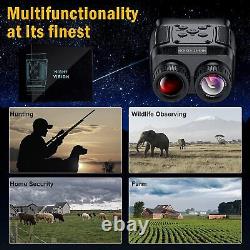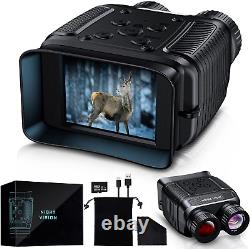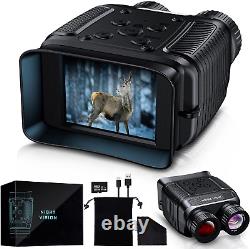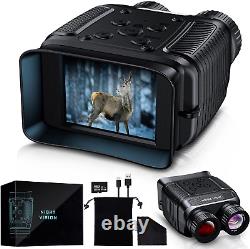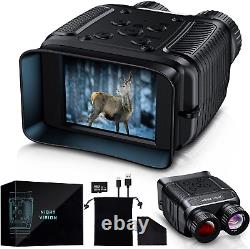 See Clearly In Complete Darkness With Night Vision Goggles? This night vision device features an infrared illuminator that allows you to easily view nocturnal animals in completely dark environments. It is equipped with high-definition photo and video shooting capabilities, allowing for clear night-time viewing and instant saving of captured media.
The night vision binocular can record up to 1080P video and capture 12MP images. Long Viewing Range And Digital Infrared Night Vision? The device has an 8x digital zoom and a 25mm objective lens, which enables you to view targets up to 984ft in the dark. The infrared night vision scope also features a 7-level adjustable infrared illuminator (850 nm) that can be adjusted based on the actual situation. The digital binocular is powered by a 2000mAh Li-ion rechargeable battery, allowing for continuous observation of your target in pitch darkness for hours.
It takes only a few hours to fully charge the battery, and there is no need for any AAA batteries. Simply rotate the left lens clockwise or counterclockwise to obtain a clear image, then you can begin taking pictures or videos. The device supports playback on the screen.
Additionally, you can connect the night vision scope to your PC using the USB cable to transmit data or use it as a computer camera. Free 32gb Tf Card And Package Included?
This package includes 1 x Night Vision Goggles, 1 x 32GB TF Card, 1 x Neck Strap, 1 x USB Data Cable, 1 x User Manual, and 1 x Camera Box. These Night Vision Binoculars are perfect for adults who enjoy outdoor activities such as night hunting, fishing, camping, security, surveillance, and wildlife watching in complete darkness. Our infrared night vision device is a powerful tool for low-light observation, with advanced features that make it an ideal choice for outdoor enthusiasts and security professionals alike. With 8x zoom and 7-level adjustable infrared technology, it allows you to observe your surroundings in incredible detail even in complete darkness, with a range of up to 300 meters. Equipped with a 32GB memory card, you can store hours of footage and images, making it easy to capture and review your observations.
Additionally, the device features a rechargeable lithium battery, providing long-lasting power for extended periods of use. Whether you're on a nighttime hunt, conducting surveillance, or just exploring the great outdoors, our infrared night vision device offers unparalleled performance and reliability, giving you a clear view of the world around you no matter what the conditions. 2.4 Inch HD Screen. The 2.4-inch high-definition LCD screen allows you to see wilderness targets more clearly, eliminating the need for head-worn devices, and enabling users who wear glasses to easily see objects in the dark, providing you with a better field of view. Our night vision device is equipped with a 2000mAh rechargeable lithium battery, which eliminates the hassle of replacing batteries. You can also check the remaining battery level through the screen, allowing you to observe for a long time in the wilderness. Connect to Computer via USB: Mass Storage: The computer recognizes the TF card and enables you to copy files to computer.
PC Camera: The computer would recognize the camera as a computer available camera. If there is not enough light or when using at night, please short press the infrared light IR button to turn on the infrared light and switch the infrared gear7 gear levels:0?
Then the image changes to black and white image. Depending on the actual situation to adjust the brightness, the dimmer the light, the higher the gear adjustment. Scroll up button: Press and hold to enlarge the image to a maximun of 8X. Scroll down button: Press and hold to zoom out the enlarged image. WORKS IN DAY AND NIGHT.
Our infrared night vision device can meet various application scenarios, including but not limited to outdoor activities, hunting, observation, animal husbandry, camping, fishing, etc. It is a great companion for your outdoor adventures, and a bright eye for you in the dark night.