Night Vision Goggles Infrared Digital Night Vision Binoculars for Adults 4K Hu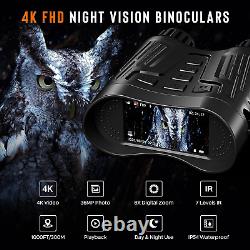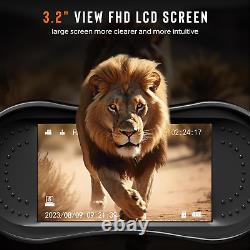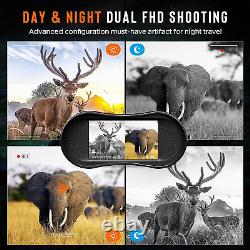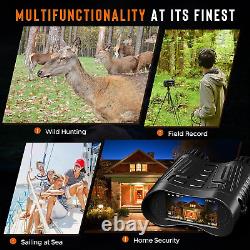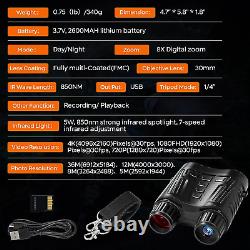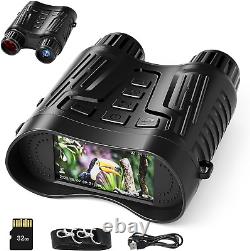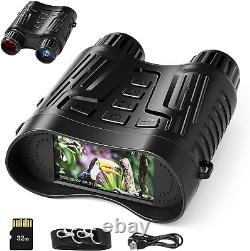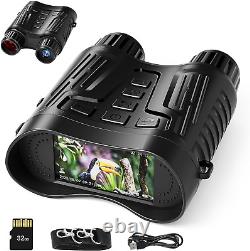 Infrared Digital Night Vision Goggles? Equipped with an adjustable 850nm IR brightness control that lets you adjust the illumination intensity to match the lighting conditions. All-Optical System is designed to provide you with clear and vivid images, even in complete darkness.
With 3 modes: taking photos, recording videos, and playback, you can capture high definition photos & videos with its outstanding optical clarity in the daytime, or night time. Full High 4K Vido & 36MP Image?
The night vision binoculars achieves 4K Full HD video resolution and 36 million pixels photos. With its advanced features and functions, the night vision binoculars are perfect for outdoor activities such as camping, hunting, bird watching, and wildlife observation. Whether you're professional or not, you can enjoy the thrill of capturing amazing videos and photos in the day and night.
3.2 Large HD Screen Night Vision Binoculars? Night vision goggles with a 3.2 TFT screen, allowing you to instant view crystal-clear photos and videos, making it convenient to preview and share pictures without the need for additional devices. Our night vision goggles are an excellent tool for exploring the world at night, giving you a unique perspective on the world around you.
Easy to use for beginners? Outstanding optical clarity, high performance digital night vision device, enable you to observe the target in complete darkness and the range up to 1000ft/ 300m. Additionally, by having 8X digital zoom&7 Levels Exposure, you have greater control over the final look of your images, and can choose the best setting to suit their particular lighting conditions and subject matter. Free 32GB Card & Rechargeable Battery? The night vision binoculars come with a 32GB micro memory card, which allows you to store your photos and videos.
Equipped with rechargeable 2600 mAh batteries, offer a 5-hour runtime with IR (infrared) and an impressive 10-hour runtime without IR, ensuring long-lasting performance during your nighttime adventures.