Night Vision Goggles Night Vision Binoculars for Total Darkness, Digital Infrared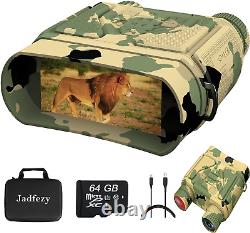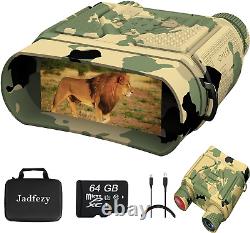 Clearly See in Total Darkness Night Vision Goggles? The night vision binoculars feature an 7 levels adjustable infrared illuminator, All-Optical System allows you to see animals or plants clearly in 100% Darkness or dim ambient light. Night vision goggles have 3 modes: taking photos, recording a video, and playback, you can capture high definition photos & videos with its outstanding optical clarity in the daytime, low light, or night time.
984FT Long Viewing Range Digital Infrared Night Vision? Outstanding optical clarity, high-standard digital night vision binoculars 8x digital zoom and a 25mm objective lens, enable you to observe the target in complete darkness and the range up to 984ft/ 300m.
3'' Large HD Display Night Vision Goggles? Large Dynamic Wide Screen: This Night vision goggles with TFT view screen, convert to 3 large viewing screen by the convex lens.
It has a high resolution for better display the views, also features to takes HD image & video in the dark. You can use the USB cable to connect your PC to transmit data and keep precious images/videos that you had taken.
Rechargeable Lithium Battery Night Vision? Jadfezy night vision goggles built-in a Li-ion rechargeable cell of 2800mAh, which allows you to view animals in pitch dark night for hours.
They don't require any AA batteries. What are in the box?? 1 x Night Vision Goggles, 1 x 64GB sd card, 1 x Neck Strap, 1 x USB data Cable, 1 x User Manual, 1 x camera box. Imagine being able to capture clear photos & videos in pitch black, save everything on the memory card included, and instantly download them to show your friends. Jadfezy Digital Night Vision scopes features photo & video mode, allows you to record everything you see in the total darkness.
They are perfect for many applications including night hunting, reconnaissance, security, surveillance, camping, boating/fishing, bird watching, camping, wildlife observation, search and rescue, and video recording in continuously light changing conditions - from dawn to absolute darkness! This Night Vision Binocular is different from the cheap plastic products on the market. It adopts high-grade rubber and aluminum alloy material, and the use effect is comparable to that of a professional camera, and it is easy to use. 7 Levels adjustable IR night vision goggles. There are 7 Levels IR powered by 850NM IR illuminator so that you can adjust the visibility of the subject to satisfy the needs of different levels of light.
Even in fully dark condition, the CMOS image sensor can present the clear image up to 300m (984ft). Y100 Night Vision Binocular is a hand-held digital night vision goggles that utilizes an infrared CMOS sensor, which to provide outstanding image quality no matter day or night! The Fully multi-coated optics increase light transmission and decrease glare, letting the binoculars to see further and clearer than those normal night vision goggles! Multi -function night vision binoculars. The night vision binoculars are not only used as binoculars but also can capture images and record videos as well.
Ideal for day and night use. They capture color imaging with IR off while capture black and white imaging with IR on. About 8 hours continuous runtime without infrared illuminator and 4 hours continuous runtime with the maximum infrared level. You can use it as you wish and no need to worry about battery drains.