Night Vision Scope IR camera & monitor- DC1000EWM withNear Eye Display for glasses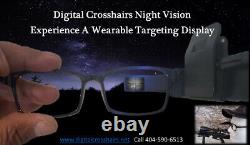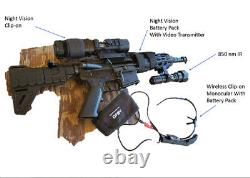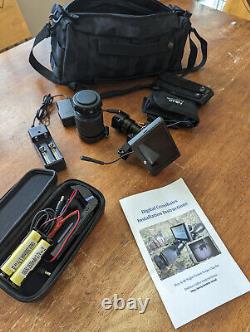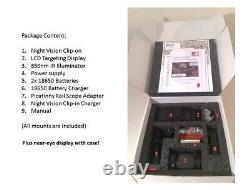 Night Vision Clip-on With Wireless Near-eye Display. This is a NEW (open box item) fully functional! This set includes the standard Digital Crosshairs 1000 package (see below) plus the wireless video transmitter that connects to the included clip-on monocular that attaches onto a pair of glasses to allow you to see what the IR camera sees on a small screen in front of your eye (as well as on the screen mounted to your scope).
Digital Crosshairs 1000EWM turns your day scope into a digital IR night vision scope. This easily mounts on any day riflescope, with no need to re-zero the weapon. Light weight attachment passes through the viewing range and magnification of your rifle scope fully utilizing the quality and features of your glass riflescope optic. It adds just 2.5 to the length of your scope.
The combined technology of high-definition Gen 2+ equivalent digital day/night vision image sensors with HD mega pixel NV lenses provides a superior resolution for super clear night vision images at 200+ yards. High technology without complicated menus. Easy to mount and move from gun to gun. 200+ yards night vision depending on the scope. Handles the heaviest recoils with no problem. Focusable 5 watt 850nm long range IR illuminator. 6+ hours battery life, extra battery option. Instant on, no warm-up required. Adapter fits any size scope eyepiece. Upgradable to future sensors to protect your investment.
Eyepiece Clip-on Night Vision Camera. Wireless monocular with power pack. Rail Mounted LCD Targeting Display (Use glass, display, or both). Lithium-ion Power Pack with wireless video transmitter.
850nm Long Range Illuminator + 2x 18650 Batteries + Charger. Digital Crosshairs 1000 is an add-on to your existing scope's capabilities. Un-like other clip-on systems which attaches in front of your scope, we attach to the eye piece and take full advantage of the scope's optical capabilities. Digital Crosshairs is small, lightweight, and provide a rail mountable LCD for targeting. You can easily attach or detach our product to many scopes which enables you to use Digital Crosshairs night vision products with all of your rifles, with no need to re-sight your weapon.
This kit also includes a very powerful tactical IR Illuminator, digital target cam, and near-eye display! The next generation in night vision hunting. Be completely stealth with near-eye display targeting hundreds of yards into total darkness using just about any day scope.
User-friendly setup with ultra-light design. Attach to most any glasses with adjustable pitch & angle. Screen can be mirrored and flipped. Video monocular glasses support left and right eye wear.
Immersive first person view experience. 5.8G wireless connection to Digital Crosshairs 1000. 4+ hours run-time with replaceable 18650 lithium batteries. Imagine, a wireless near-eye display add-on for Digital Crosshairs 1000 night vision clip-on that adds near-eye targeting to any scope in daylight or total darkness.
It can be used to replace the rail mounted LCD display that comes with the Digital Crosshairs 1000 kit or used with it by an additional compainion viewer. Digital Crosshairs Monocular Glasses Specifcation. Resolution: 428 × 240 × 3. Brightness: Adjustable, suitable for outdoors Contrast: Adjustable Saturation: Adjustable.
Pitch Angle: adjustable by 0-45 degree. Transparency: 92% of the light, true high transmittance, less interference for viewing screens.
Power pack: 2x 18650 batteries, 4+ hours running time. Antenna: Built-in 5.8G antenna.
20 ° C -90 ° C. NO ONE ELSE HAS THIS BUT THE MILITARY!!! This gives you a monocular with through the weapon sight targeting in real time! Includes everything that comes with the standard Digital Crosshairs 1000 Kit. Why trade your good glass optics for a dedicated night vision solution that is inferior in the daylight to your glass?
This is the best value in a night vision scope clip-on you will find on the market today! Don't miss another trophy shot that was hiding in the shadows at dusk or darkness of night! Digital Crosshairs is a IR night vision scope attachment that brings an affordable night vision device into the reach of the average hunter. Today this product has exceeded expectations.
As a rifle scope clip-on, it opens a hunters whole collection of scoped rifles, pistols, and crossbows to night hunting. It is also used by handicapped and visually challenged hunters.
This item is in the category "Sporting Goods\Hunting\Scopes, Optics & Lasers\Night Vision". The seller is "ncs-tech" and is located in this country: US. This item can be shipped to United States.
Brand: Digital FOV, LLC
Type: Night Vision Scope
Generation: Digital IR Night Vision
Power Source: Battery
Color: Black
Model: Digital Crosshairs - DC1000EWM
Features: Digital Display
MPN: DC1000EWM
For Gun Type: Rifle