Pro Night Vision Goggles Digital Infrared Adults 100% Dark Binoculars for Helmet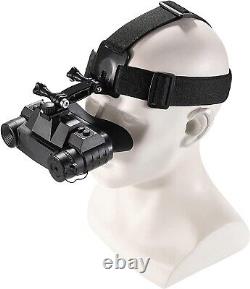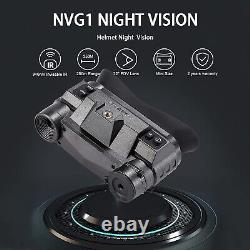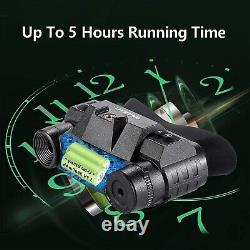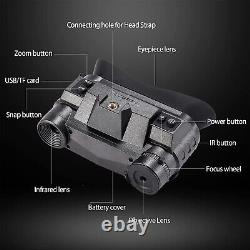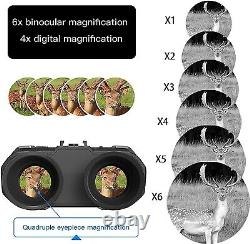 Digital Infrared Night Vision Goggles Adults, Night Vision Binoculars for Helmet-FHD Binocular for Viewing 984ft/250m in 100% Darkness Night Vision Scope for Hunting & Surveillance (NVGG1). NVG-G1 Upgraded HD Endurable Night Vision Binoculars - Your First Choice for Night Vision Goggles! The newly developed Head Mounted Night Vision Goggless supports day and night use, 7-level infrared adjustment, 6x optical magnification and 4x digital zoom. Ead mounted night vision goggles is supplied with an adjustable headband as standard, making it easy to go handsfree. (Helmet and metal mount not included in the package).
Let you observe the clearest picture at any time. The product also has photo and video modes that allow you to record everything you see in complete darkness. If you are a outdoor explorer and love spotting wildlife during the night, this goggles can brings you the best wide view. 7 IR Adjustable Level & 8X Digital Zoom Notice. Short press "IR+" button to increase the brightness up to the effect you would prefer, max level is "7"; Press "IR-" to decrease it. The higher the infrared light level is adjusted, the clearer the target in the dark observation is. Long press "IR+/-" button, the magnifier will shows in the down right corner of the screen, you can adjust the grade of digital zoom as you need.
IPX4 Waterproof & Portable to Carry. Waterproof night vision binoculars have waterproofing, dust, and fog-resistant built into their design to ensure reliable performance in rain, sleet, snow, and any weather. Great for prolonged use in any outdoor environment.
Also the portable size and light weight brings you easy carry when traveling, hiking or hunting. Support to Use Handheld or Head Mounted. These night vision goggles supplied with an adjustable headband(included) as standard, making it easy to go hands-free.
It is compatible with FAST, MICH helmet. And fits for L4G24 NVG Metal Helmet Mount (Helmet and metal mount not included in the package). You can also mount the NGV to a military helmet, tactical helmet, or bump helmet. Power charger, Power bank or Car charger : Suggest to use DC5V/2A (These are not incuded in the package).
Night vision goggles add 1080p video recording with audio, powerful Low Glow 850nm LEDs and a higher resolution screen. A wider field of view.
Manual Focus by Rotating the Wheel. This Infrared Binoculars works like our eyes. Rotate to left to focus on farther target, and to the right to focus on closer targets. You've got it all under control!
Digital night vision device that sees 6x magnification clearly in the dark, 4x digital zoom and 25mm objective aperture. Digital night vision goggles for helmet. The product comes with a 1x 32GB memory card, 1 x carry case, 1 x head strap, 1x USB data transfer charging cable, 1x neck strap, 1x storage bag, 1x cleaning cloth, 1x multi-language manual.