PULSAR Digex N450 4-16x50 Digital Night Vision Riflescope with IR Ilumm (PL76641)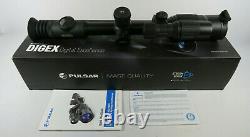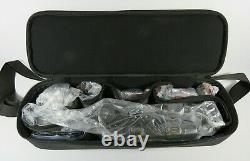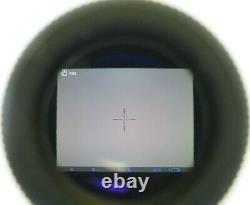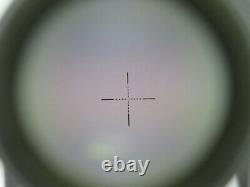 Digex is the first to market, full featured, night vision riflescope designed in the shape of a classic day sight. The form factor of the Digex allows the lowest possible mounting point, flexible positioning on the rifle and an appealing external view. HD resolution sensor and display, enhanced night-time sensitivity, high quality fast optics, high magnification and powerful built-in IR for a moonless night make the Digex the perfect tool for detecting animals at distances out to over 546 yards. Activating the high precision aiming frame allows the user to closely control the image in the aiming area while being visually aware of the entire field of view at the same time. Digex Night Vision Riflescopes feature a built-in recorder to capture still images or HD quality video. Stream Vision transfers images from the Digex to the smartphones display, duplicates the controls for digital functions and helps to transfer, in real time, the images to the Internet. The Digex connects via Wi-Fi to mobile devices. The user only needs a smartphone, the free Stream Vision App and internet access to install new firmware. Digex is easy to use. Dedicated buttons for the basic functions are easily accessible.
The Digex Riflescope will operate in sub-zero temperatures, precipitation of any intensity and even survive submersion. The riflescope is flexibly mounted on the weapon using 30mm mounting rings. Over 500m Nighttime viewing range. Integrated video and sound recorder. Easy mounting on a rifle.
Wi-Fi compatibility with iOS and Android devices. Recoil resistant up to 375 H&H, 12GA, 9.3x64. 10 Reticles in 8 Color Pallets.
The metal housing of the riflescope is rugged and light at the same time. The antiwear coating will keep Digex's decent external look for years of use. Digex riflescopes feature a built-in recorder to capture still images and HD quality videos with sound.
Footage can be transferred to PC/laptop or mobile device via a wired connection or via Wi-Fi. 720 HD CMOS sensor ensures that Digex delivers a high definition image with precise detail rendering. The use of cutting-edge electronic components and signal-processing algorithms guarantee the best nighttime sensitivity. As a result, the riflescope offers flawless passive-mode performance in deep twilight, even night, without the IR Illuminator.
High sensitivity in the range of 900-950 nm allows using the Digex riflescopes with invisible IR Illuminators. Easy Mounting on a Rifle.
The middle part of the Digex body is a 30 mm tube, standard for daylight optical sights. This form-factor enables the Digex to be flexibly mounted on various types of hunting weapons using proven solutions. The base magnification of Digex N455 increases by four times - from 4x to 16x.
The zoom changes either gradually in 2x step or continuously for a truly optimum, customized field of view for specific situation. Ballistic reticles are scaled proportionally to riflescope's magnification changes, similar to the reticles placed in the first focal plane of optical sights. Angular dimensions of reticles' parts remain constant at all magnifications, which allows quick measuring of distance and adjusting for shooting at various ranges.
Picture-in-Picture mode is an additional frame for high-precision zeroing. Taking only 10% of the total display area, the frame shows magnified image of the target and reticle and allows the user to closely see the image in the aiming area and have visual control of the entire field of view at the same time. Digex riflescopes are powered with two rechargeable batteries: one built-in and the other replaceable located in the battery compartment. Upon discharge of the battery in the battery compartment, the riflescope switches automatically to the built-in battery.
The replaceable battery can be removed and replaced in a matter of seconds. Then the riflescope switches to the replaceable battery without intermediate shutdown.
A smartphone, free mobile application Stream Vision and Internet access is all one needs to check updates and to install new firmware. Updates with new functions are implemented into the riflescope used by hunter without the need to send to repair center. Supplied powerful long-range IR Illuminator. The Digex riflescopes are supplied with a detachable high power 850 nm or 940 IR illuminator. The 850nm IR features long-range action, the 940 nm IR operates in the invisible range.
With this IR the hunter can observe animals staying unnoticed and without the fear that animals could be frightened away. Three adjustable IR power levels help choose preferred effective range and illumination level of an object observed. Adjustable power changes the operating range and illumination level of objects.
Integration with IOS and Android devices. The built-in WiFi module connects the device with either Android or iOS smartphones using the Stream Vision 2 mobile app.
This combination opens up a wide range of options: wireless device software updates, real-time image transmission to the mobile device screen, remote control digital functions and much more. Users registered in the application are provided with cloud storage space for photos and videos taken with a digital or thermal imaging device. An important feature is that the device is still compatible with the previous, first version of the Stream Vision application. High caliber recoil resistance: 12 gauge. Digex riflescopes feature high shock resistance allowing use with large caliber hunting rifles such as 9.3?
As well as smooth-bore and airsoft weapons. The Digex features IPX7 level of protection, which means it is fully waterproof. The riflescopes are able to operate in high humidity, precipitation of any intensity and survive a 30-minute long and 1m deep submersion. A selection of 10 reticle shapes in 8 color modes. Digex's reticle is electronic and always stays in the same plane with the target. The Digex has reticles of ten various shapes and functions (direct shot type, ballistic, scalable and regular), all available in eight colors. At the maximum magnification of 16x reticle step is less than 0.1 MOA but the aiming point is stable in the entire range of magnifications. 5 individual shooting profiles / 50 zeroing distances. Zeroing settings are saved in a shooting profile. The Digex N455 features up to five shooting profiles for various rifles and cartridges.
Each profile can hold up to 10 zeroing distances. Software sensitivity enhancement algorithm SumLight. SumLight function increases sensor sensitivity which allows passive observation (without IR) in low light conditions and at night.
The software automatically activates algorithms (such as summing adjacent pixel signals, frame addition), thus increasing sensitivity while preserving good image quality. The field of view of the complex wide-angle six-lens eyepiece is 30 degrees. Combined with the HD quality AMOLED display, the eyepiece delivers a rich and deep image perception.
Digex starts up within three seconds after ON button is pressed. Turn on-off, video recording, zoom setup and PiP mode are activated by dedicated buttons easily accessible on the upper part of riflescope's housing. Other functions are managed by the controller, which operates as both a wheel and button. Digex riflescopes are designed to operate in a wide range of temperatures from (-25 to +50°C).
The frost-resistant AMOLED display features quick response rate and ensures a crisp image when viewing fast moving objects. Rifle's side inclination when shooting shifts the point of impact off the aiming point. Digex riflescopes control the degree of side inclination. Once the rifle with riflescope installed is inclined by more than five degrees, the display shows a warning - compound arrows with direction and degree of inclination. The more sections an arrow has, the greater is the angle of side incline. This setting automatically turns the riflescope off as soon as it is in the non-working position for a certain time interval - inclination angle is more than 70 degrees vertically (upwards/downwards) or 30 degrees horizontally (rightwards/leftwards). The stadiametric rangefinder is a dynamic rangefinding scale intended to help determine approximate range to objects with known height 1.7 m (deer), 0.7m (wild boar) and 0.3 m (rabbit). Removable Eye Cup with Magnet Fixing. The removable eye cup installs on the eyepiece and removes from it within a fraction of a second. For the night use, the eye cup protects the hunter against disclosing light from the micro display and helps position the eye relative to riflescope´s eyepiece. We are a family-owned, veteran-owned business that has been operating in the Dallas/Fort Worth metroplex for more than 35 years.
We are committed to upholding our 2n? Amendment rights while encouraging education and training to keep the tradition of gun ownership alive for generations to come.
If you're interested in firearms please check out our store in Bedford, TX or our sister stores: Texas Gun Experience in Grapevine, TX and Texan Guns and Gear in Stephenville, TX. We are an authorized dealer unless otherwise stated. Please allow up to 2 weeks for items to arrive in these situations. All open box item sales are final except for manufacture defects. Feedback is given in bulk at the end of each month.
This item is in the category "Sporting Goods\Hunting\Scopes, Optics & Lasers\Night Vision". The seller is "dfwshootingsports" and is located in this country: US. This item can be shipped to United States.
Built-in IR: With Built-in IR
Type: Riflescope
Features: Night Vision
UPC: 0812495026416
Brand: Pulsar
MPN: PL76641