Pulsar Digex N455 Digital Night Vision Riflescope WiFi/Onboard Recording PL76642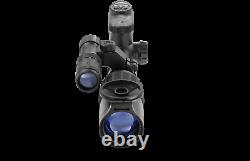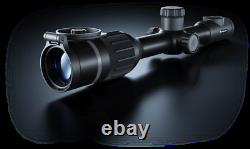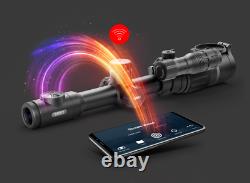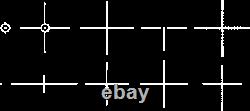 Pulsar Digex N455 Digital Night Vision Riflescope WiFi/Onboard Recording PL76642. Over 500m nighttime viewing range. Combination of best nighttime sensitivity in its class, HD resolution display and sensor, wide selection of brightness and contrast settings, quality fast optics, high magnification and a powerful built-in IR for a moonless night make the Digex a perfect tool for detecting such targets as a wild boar, deer or elk at distances ranging from 450 to 550 meters.
The metal housing of the riflescope is rugged and light at the same time. The antiwear coating will keep Digexs decent external look for years of use. Integrated video and sound recorder. Digex riflescopes feature a built-in recorder to capture still images and HD quality videos with sound. Footage can be transferred to PC/laptop or mobile device via a wired connection or via Wi-Fi.
The highly sensitive 1280720 HD CMOS sensor ensures that Digex delivers a high definition image with precise detail rendering. The use of cutting-edge electronic components and signal-processing algorithms guarantee the best nighttime sensitivity. As a result, the riflescope offers flawless passive-mode performance in deep twilight, even night, without the IR Illuminator.
High sensitivity in the range of 900-950 nm allows using the Digex riflescopes with invisible IR Illuminators. Easy Mounting on a Rifle.
The middle part of the Digex body is a 30 mm tube, standard for daylight optical sights. This form-factor enables the Digex to be flexibly mounted on various types of rifles using proven solutions. The base magnification of Digex N455 increases by four times from 4x to 16x. The zoom changes either gradually in 2x step or continuously for a truly optimum, customized field of view for specific situation.
Ballistic reticles are scaled proportionally to riflescopes magnification changes, similar to the reticles placed in the first focal plane of optical sights. Angular dimensions of reticles parts remain constant at all magnifications, which allows quick measuring of distance and adjusting for shooting at various ranges. Picture-in-Picture mode is an additional frame for high-precision zeroing. Taking only 10% of the total display area, the frame shows magnified image of the target and reticle and allows the user to closely see the image in the aiming area and have visual control of the entire field of view at the same time.
Digex riflescopes are powered with two rechargeable batteries: one built-in and the other replaceable located in the battery compartment. Upon discharge of the battery in the battery compartment, the riflescope switches automatically to the built-in battery.
The replaceable battery can be removed and replaced in a matter of seconds. Then the riflescope switches to the replaceable battery without intermediate shutdown. A smartphone, free mobile application Stream Vision and Internet access is all one needs to check updates and to install new firmware. Updates with new functions are implemented into the riflescope used by hunter without the need to send to repair center. Supplied powerful long-range IR Illuminator.
The Digex riflescopes are supplied with a detachable high power 850 nm or 940 IR illuminator. The 850nm IR features long-range action, the 940 nm IR operates in the invisible range. With this IR the hunter can observe animals staying unnoticed and without the fear that animals could be frightened away. Three adjustable IR power levels help choose preferred effective range and illumination level of an object observed. Adjustable power changes the operating range and illumination level of objects.
Remote Review, operation and live YouTube streaming using smartphone. Via Wi-Fi Digex connects to Android and iOS based smartphones and tablets. The free mobile application Stream Vision transfers image in real time to smartphones display, duplicates control of Digexs digital functions, informs about new firmware update and installs it, transfers in real time the image from the riflescope to the Internet via YouTube and other online video platforms. The Digex features IPX7 level of protection, which means it is fully waterproof. The riflescopes are able to operate in high humidity, precipitation of any intensity and survive a 30-minute long and 1m deep submersion.
A selection of 10 reticle shapes in 8 color modes. Digexs reticle is electronic and always stays in the same plane with the target. The Digisight has reticles of ten various shapes and functions (direct shot type, ballistic, scalable and regular), all available in eight colors. At the maximum magnification of 16x reticle step is less than 0.1 MOA but the aiming point is stable in the entire range of magnifications.
5 individual shooting profiles / 50 zeroing distances. Zeroing settings are saved in a shooting profile. The Digex N455 features up to five shooting profiles for various rifles and cartridges. Each profile can hold up to 10 zeroing distances. Software sensitivity enhancement algorithm SumLight.
SumLight function increases sensor sensitivity which allows passive observation (without IR) in low light conditions and at night. The software automatically activates algorithms (such as summing adjacent pixel signals, frame addition), thus increasing sensitivity while preserving good image quality. The field of view of the complex wide-angle six-lens eyepiece is 30 degrees.
Combined with the HD quality AMOLED display, the eyepiece delivers a rich and deep image perception. Digex starts up within three seconds after ON button is pressed. Digex is easy to use. Turn on-off, video recording, zoom setup and PiP mode are activated by dedicated buttons easily accessible on the upper part of riflescopes housing. Other functions are managed by the controller, which operates as both a wheel and button.
Digex riflescopes are designed to operate in a wide range of temperatures from (-25 to +50°C). The frost-resistant AMOLED display features quick response rate and ensures a crisp image when viewing fast moving objects. Rifles side inclination when shooting shifts the point of impact off the aiming point. Digex riflescopes control the degree of side inclination. Once the rifle with riflescope installed is inclined by more than five degrees, the display shows a warning compound arrows with direction and degree of inclination.
The more sections an arrow has, the greater is the angle of side incline. This setting automatically turns the riflescope off as soon as it is in the non-working position for a certain time interval inclination angle is more than 70 degrees vertically (upwards/downwards) or 30 degrees horizontally (rightwards/leftwards). The stadiametric rangefinder is a dynamic rangefinding scale intended to help determine approximate range to objects with known height 1.7 m (deer), 0.7m (wild boar) and 0.3 m (rabbit). Removable Eye Cup with Magnet Fixing.
The removable eye cup installs on the eyepiece and removes from it within a fraction of a second. For the night use, the eye cup protects the hunter against disclosing light from the micro display and helps position the eye relative to riflescope´s eyepiece. Video / photo resolution, pixel.
Degree of protection, IP code (IEC60529). Dual Li-Ion B-Pack Mini Power System: 2 A·h Changeable Battery (external) / 3.2 A·h Battery (internal). 2000 (external) + 3200 (internal). Operating time on battery pack (at t=22°C), h.
Recoil power on rifled weapon (Eo), Joules. Shock resistance on the smooth-bore rifles, caliber.
APS2 rechargeable battery 2 pcs. Mains charger USB cable IR illuminator Carrying case. Export of night vision/thermal equipment and optical sighting equipment is controlled by the U.
Department of State Office of Defense Trade Controls, in accordance with International Traffic in Arms (ITAR), Title 22, Code of Federal Regulations Part 120-130 and/or the Export Administration Regulations (EAR) U. Please see below for more information.
I will do my 110% best to get you the best price around. Please do not hesitate to just ask.
We also provide a tracking # and depending on the product we will sometimes require signature confirmation for your security. We only sell Brand New Factory Sealed Products unless otherwise noted.
Thanks for taking the time to look at my new store. Do to the nature of some of the products we sell, occasionally an item can become backordered. If this happens, Night Vision Universe will contact you immediately letting you know. Just let us know and we will do whatever you desire. Thank you for shopping with us.
Remember Night Vision Universe is your one stop shopping experience for your outdoor and sporting good needs. YOU HAVE OUR ASSURANCE THAT WE STAND BEHIND OUR PRODUCTS. THAT ITEMS LISTED AS NEW WILL BE BRAND NEW NEVER. OR USED AND IN WORKING CONDITION FREE OF DEFECT. We work very hard to deserve top ratings in all feedback categories, and hope buyers will take a moment to reward us with 5 star feedback, which we always return in kind. We ask buyers to consider the following before leaving feedback. Please take the time to contact me if something is wrong. I will be more then happy to resolve the issue right away :.
1 Item as described: Did you received what you ordered? We also respond to emails very quickly, often in a matter of minutes or hours, even on weekends and holidays (though on weekends and holidays it sometimes takes a bit longer :-).
We trust that our customers will not act that way, just as we don't take advantage of them. Our total prices are always very competitive. In addition, we ask buyers to limit their feedback comments to our performance in these categories.
If you feel that for some reason we fell short of our goal to receive 5 stars in all categories, please let us know why so we can improve our business. And even if we aren't perfect, please remember that we are human just like you, and we try our best to do things right - so cut us some slack.
We're a small family-owned business trying to make it, not a huge company that doesn't care. ITAR COMPLIANCE - THE INTERNATIONAL TRAFFIC IN ARMS REGULATIONS (ITAR). EXPORT POLICY AND EXPORT RESTRICTIONS INFORMATION. Department of States Directorate of Defense Trade Controls, the U.
Department of Commerces Bureau of Industry and Security, and the U. Department of the Treasurys Office of Foreign Assets Control administer export control regulations that affect some aspects of our business. We request that you (the Customer) read and familiarize yourself with the following regarding certain applicable export regulations.
Of any product prohibited or restricted for export without complying with U. Export control laws and regulations, including proper export licensing, documentation or authorization, is strictly prohibited and may result in civil penalties and/or constitute a federal crime. Export of night vision equipment and optical sighting equipment is controlled by the U. It is unlawful to export, or attempt to export or otherwise transfer or sell any hardware or technical data or furnish any service to any foreign person, whether abroad or in the United States, for which a license or written approval of the U. Government is required, without first obtaining the required license or written approval from the Department of the U.
It is the Resellers/End Users responsibility to request and obtain export licenses for the export of the subject items, and to ensure that the requirements of all applicable laws, regulations and administrative policies are met. Sales or transfers to entities on the List of Debarred Parties, Denied Persons list and Embargoed Countries are strictly prohibited. ITAR items and items marked for domestic sale only should only be used by party identified on the Night Vision Universe LLC Sales Order/Invoice for use or resale in the U.
Such items should not be exported, provided to foreign persons in the U. Including Foreign Embassies in the U. If/when such items are resold, the original purchasing party must advise customers/end users of their duty to comply with U. Export control regulations or face the possibility of severe criminal and civil fines including imprisonment if convicted. Furthermore if above mentioned items are resold or transferred in any way, the original purchaser must inform customers/end user(s) that if these items are lost, stolen or destroyed, they must report this fact to Night Vision Universe LLC and provide the date of the incident as well as the associated serial number of the item.
Person for this purposes is a U. Citizen, lawful permanent resident as defined by 8 U. 1101 (a) (20), protected individual as defined by 8 U. 1324b(a)(3) and US Company as the company entity organized under the laws of the United States. Export of GEN-3 night vision equipment from the United States without a valid export permit issued by the U. Department of State, Office of Defense Trade Controls is strictly prohibited. Generation 4, autogated/filmless technology is not available for export. Other Restrictions: Restrictions on the use of night vision with a weapon vary from state to state.
You are strongly advised to learn these laws and adhere to them. Night Vision Universe LLC will not be held responsible for unlawful usage. By completing your order, you agree to the following. I understand that the products obtained from Night Vision Universe, LLC.
Are subject to the export control laws and regulations of the U. Government and that they fall under the jurisdiction of either the Department of State or the Department of Commerce. I understand that it is unlawful to export, or attempt to export or otherwise transfer or sell any hardware or technical data or furnish any service to any foreign person, whether abroad or in the United States U.
, for which a license or written approval of the U. Government is required, without first obtaining the required license or written approval from the department of the U.
I understand that, in the ITAR (§ 120.16), a foreign person means any natural person who is not a lawful permanent resident as defined by 8 U. 1101(a)(20) or who is not a protected individual as defined by 8 U.
It also means any foreign corporation, business association, partnership, trust, society or any other entity or group that is not incorporated or organized to do business in the U. As well as international organizations, foreign governments and any agency or subdivision of foreign governments e. Government export controls and regulations and that, if I violate them, it could result in severe criminal and civil penalties (including substantial fines, imprisonment, seizure of controlled products and technical data, and/or suspension/removal of export privileges). Law to receive such product, technology, and/or software. I further understand that exports, re-exports, or transfers of any products to, or for the benefit of, individuals, entities and countries named in the lists referenced in the Lists of Prohibited Individuals, Entities and Countries are strictly prohibited.
If you have any questions on this, please send us a message. Night Vision Universe LLC will not be held responsible for unlawful export. This includes all generations of any night vision optic, thermal optic, laser optic, day optic, etc.
Thank you for your time in carefully reading these regulations and for your compliance. The item "Pulsar Digex N455 Digital Night Vision Riflescope WiFi/Onboard Recording PL76642" is in sale since Wednesday, March 24, 2021. This item is in the category "Sporting Goods\Hunting\Scopes, Optics & Lasers\Night Vision Optics".
The seller is "night-vision-universe-nvu" and is located in Pittsburgh, Pennsylvania. This item can be shipped to United States.
Warranty: 3 Years
Generation: Digital
MPN: PL76642
Brand: Pulsar
Type: Riflescope
Model: Digex
Built-in IR: With Built-in IR