Pulsar Digisight Ultra N455 Digital HD Night Vision riflescope IR illumination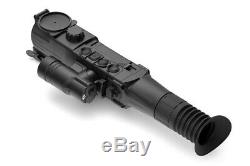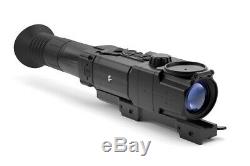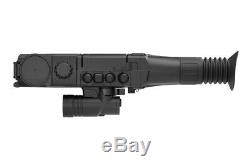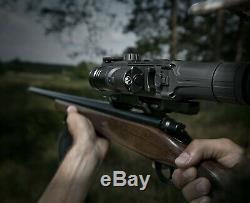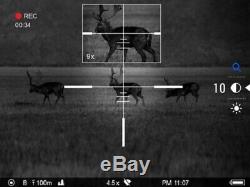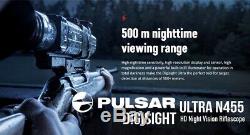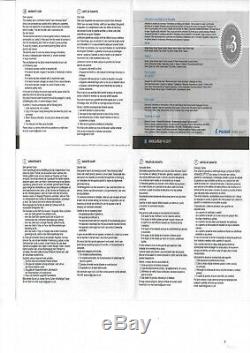 Please do not hesitate to contact me. For USA, Australia, Canada, Peru, Chili, Argentina, Brazil. During the first 30 days after receipt of your product.
The Digisight Ultra utilizes proprietary software, cutting-edge electronic components and signal-processing algorithms to deliver one of the industrys highest values of sensitivity in night time. The result is a device offering flawless passive-mode performance in deep twilight, even night, without switching on IR illumination. 500 m nighttime viewing range.
High nighttime sensitivity, high resolution display and sensor, high magnification and a powerful built-in IR Illuminator for operation in total darkness make the Digisight Ultra the perfect tool for target detection at distances of 500+ meters. The highly sensitive CMOS sensor featuring 1280720 HD resolution delivers a high definition image with precise detail rindering. The Digisight Ultra utilizes proprietary software, cutting-edge electronic components and signal-processing algorithms to deliver one of the industrys highest values of sensitivity in infrared spectrum (nighttime sensitivity). Picture-in-Picture mode allows the user to add an extra frame to the display. Sized only 1/10 of the total displays, the frame shows enlarged image of the target and reticle. This allows the user to see both: enlarged image of the aiming area and the full field of view. Variable magnification from 4.5 to 18x. The Digisight Ultra features both optical magnification and 4x digital zoom ranging from 4.5x to 18x. The zoom changes in 2x steps or continuously for a truly optimum, customized field of view. Digisight Ultra includes a progressive autonomous B-Pack power supply consisting of a quick-detach, rechargeable IPS5, 5A-h battery pack designed to deliver over 5 hrs. Of operation on maximum mode. Higher-powered IPS10 battery packs, as well as AA battery case also are available and provide a perfect off-the-grid power solution. IPX7 waterproof-rated protection ensures the Digisight Ultra performs perfectly in wet weather, even during intense rain, snowfall and submersion in 1 m of water for up to 30 min.
The Digisight Ultra riflescopes are equipped with a recorder which enables video shooting and image capturing at the time of observation. Video and photo files saved in the internal memory can be transferred to a PC/ laptop or mobile device via wired or Wi-Fi connection. The field of view of the complex wide-angle six-lens eyepiece, employed in the 400-series features 20% increase compared to the previous Digisight Ultra model. Combined with the HD quality AMOLED display, the eyepiece delivers a rich and deep image perception.
A smartphone, free mobile application Stream Vision and Internet access is all one needs to check updates and to install new firmware. This allows a hunter to receive new features and fixes for a riflescope he already owns. High caliber recoil resistance: 12 gauge. The Digisight Ultra riflescopes feature high shock resistance and can be used with rifled hunting weapon for such cartridges as 9.364.
Etc, and with smooth-bore and airsoft weapon. Ballistic reticles are scaled proportionally to riflescopes magnification changes, similar to the reticles placed in the first focal plane of optical sights.
Angular dimensions of reticles parts remain unchanged at all magnifications, which allows quick measuring of distance and adjusting when shooting at various ranges. 10 reticle shapes in 6 color modes. The reticle is electronic and is always in the same plane with the target. The Digisight has reticles of ten various shapes and functions (direct shot type, ballistic, scalable and regular), all presented in six colors.
At the maximum magnification reticle step is less than 0.1 MOA. Aiming point is stable in the entire range of magnifications. Digisight Ultra starts up within three seconds after ON button is pressed. 5 individual shooting profiles / 50 distances.
Zeroing settings are saved in a shooting profile. The Digisight Ultra N400th riflescopes allow the user to create up to five shooting profiles for various rifles and cartridges. Each profile can hold up to 10 zeroing distances. Increased reticle adjustment range (2m at 100 m range). Reticles vertical and horizontal travel range is two meters at 100 m on average 25% more than in previous Pulsar models. The increased reticle travel range allows zeroing at close and far distances and installing the riflescope on rifles using cartridges with steep ballistic trajectory without changing mounts and rails. Software sensitivity enhancement algorithm SumLight. SumLight function increases sensor sensitivity, which allows passive observation (with IR off) in low light at night.
The software automatically activates algorithms (such as summing adjacent pixel signals, frame addition), thus increasing sensitivity while preserving sufficient image quality. The Digisight Ultra N455 riflescopes are supplied with a detachable high power IR illuminators (940 nm respectively). The 940 nm model operates in the invisible range. Three adjustable IR power levels help choose preferred effective range and illumination level of an object observed.
Remote Review, operation and live YouTube streaming Using Smartphone. Using the free, high-tech, iOS and Android compatible Stream Vision app, the Digisight Ultra connects via Wi-Fi to allow transfer of images and video to smartphones and other wireless devices in real time, stream footage to YouTube and other online video platforms (depending on model), and even use your personal device as a wireless remote control. The Digisight Ultra features a stadiametric rangefinder: a dynamic rangefinding scale intended to help determine range to objects with known height 1.7 m (deer), 0.7m (wild boar) and 0.3 m (rabbit). Side incline and elevation angle sensor. A built-in accelerometer/gyroscope improves accuracy by precisely identifying cant and angles greater than 5° with an arrow indicating the direction and degree of lateral tilting.
Increased angles are shown with additional arrows. Moreover, the riflescope can be set to auto shutdown when resting in a non-shooting position. Unit operation may be disabled when the vertical angle is greater than 70° or horizontal angle is greater than 30°. The item "Pulsar Digisight Ultra N455 Digital HD Night Vision riflescope IR illumination" is in sale since Tuesday, October 15, 2019. This item is in the category "Sporting Goods\Hunting\Scopes, Optics & Lasers\Rifle Scopes".
The seller is "martbel" and is located in Minsk, Europe. This item can be shipped worldwide.
Eye relief, mm: 50
Maximum Magnification: 4.5 18 (x4 zoom)
Model: N455
Country/Region of Manufacture: Belarus
Color: Black
MPN: Does Not Apply
Reticle: Illuminated
Brand: Pulsar