Sightmark Wraith HD Digital Riflescope / NightSnipe NS750 Dimmable IR Kit Combo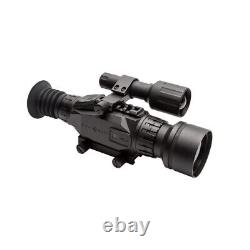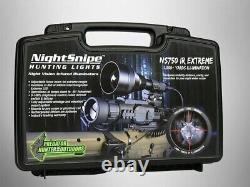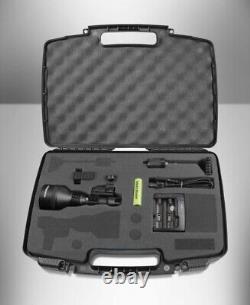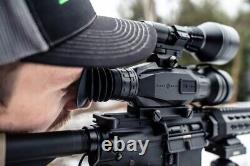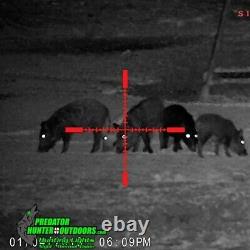 Sightmark Wraith HD Digital Riflescope / NightSnipe NS750 Dimmable IR Kit Combo. Want to TRIPLE the viewing distance of your existing Sightmark Wraith scope?
Easily do this by adding a NightSnipe Hunting Lights NS750 Extreme IR Illuminator to your setup! See your target at 1000+ yards with the NightSnipe NS750 Extreme IR!! A small investment for an extreme improvement in performance!
Combo kit comes standard with. 1 x Sightmark Wraith HD 4-32×50 Digital Riflescope. Or Sightmark Wraith 2-16×28 Digital Riflescope.
HD Digital Night Vision and color daytime rifle scope and mount. 1 x NightSnipe NS750 Extreme Dimmable IR (Infrared) Illuminator Hunting Light Kit.
1 x Wireless Dimmer Dial Illumination, ON / OFF tailcap. 1 x Coiled Dimmer Illumination DIAL Switch. 1 x NightSnipe Adjustable Mount System. (Mounts to any Picatinny Rail or the provided rail scope mount).
1 x Interchangeable extreme powered 100,000-hour CREE USA DIMMER IR (Infrared) LED available in 850nm. 1 x Universal AC/DC home & car charger. 2 x Rechargeable, 10-year rated Lithium Ion batteries (18650, 3.7 volt, 2400+ mAh). EXCLUSIVE, Industry leading hard plastic NightSnipe carrying case with protective foam cut out insert. Sightmark Wraith NS10,000 Rechargeable Battery Kit.
NightSnipe Sightmark Wraith Bolt Action / Rifle - Extension Mount. Sightmark Wraith Bolt Action Mount.
Sightmark Wolfhound Locking Quick Detach Mount. Sightmark Wraith Sunshade (Only for 4-32x50). Lighter, Brighter and better than ever! For the highest quality, farthest shining IR Illuminators available in the industry!
A Hunting Light Kit with options like no other! With 1,000 yards of IR Illumination, the predators don't stand a chance! Designed and Engineered in the USA by Predator Hunters, for Predator Hunters! Available with 2 dimming options! NightSnipe Wireless Dimmer Dial Tailcap! Comes with all NS750 Extreme Kits. Illuminate your NS750 from 0-100% IR illumination.
This newly designed dimmer dial wireless tailcap allows the hunter to make adjustments without the use of a coiled / remote switch by simply turning the dimmer dial on the back of the NS750. NightSnipe Coiled / Remote Extreme Dimmer Dial Switch!
This newly designed dimmer dial switch allows the hunter to make adjustments with a simple turn of a dial to reach the precise amount of light desired. This switch can be mounted anywhere on the weapon. We at Predator Hunter Outdoors designed the all new NS750 Extreme Hunting Light to be the best of the best! Lighter, brighter and with more options than any other light on the market! Designed and engineered in the USA to our exact specifications to ensure the highest quality standards in the industry.
Most IR lights available are either a 1-mode, (high) or a 3-mode, (Low/Medium/High). Night vision scopes can be very picky on the amount of IR light they prefer for different hunting situations to reach the optimal viewing picture.
To little light and your target isn't being illuminated to its full potential. Too much IR light will result in a complete white wash out of your picture resulting in losing your target in the scope. The all new NS750 Extreme IR led and dimmer allows the hunter to use the exact amount of IR light for picture perfect illumination. From 0-100% IR light illumination means there is no other IR illumination / dimmer quite like it!
With our specialty designed indicator coiled dimmer switches, you'll know if your IR Illuminator is powered on just by noticing the small red glow on the switch itself. No more accidentally leaving your dimmer illuminated just to have a dead battery at the next stand. Nothing was left out or spared in the designing of the new NS750 Extreme!
Fully adjustable Mount System: (Mounts to ANY picatinny rail or the provided rail scope mount). Just like mounting a rifle scope, keeping your light as close as possible to your scope / weapon is crucial for maximum performance. Having to high of a mount will result in improper beam placement and insufficient adjustments that will not allow your tightly focused light beam to be centered in your scope and on your intended target.
In addition to improper beam placement or lack of overall adjustment, the adjustment knobs on 99% of similar mounts are too small and become seized up very quickly leaving you with a now non adjustable mount. A great majority of the adjustable mounts available in the market are very low-quality builds. They lack precise CNC machining, quality internal components such as springs, ball bearings and other crucial parts that make up the mounts.
We have also found that most of the mounts do not fit the light tubes properly due to improper hole / screw placement, hole depth and sloppy engineering of the mount ring. We engineered and designed our adjustable mounts in the same fashion as our lights with tight, fluid like, precise adjustments for pinpoint accuracy.
Not only did we improve the overall CNC machining of the mounts we also increased the ball bearing diameters, springs and travel adjustments to ensure a full range of adjustment both vertical and horizontal. We also increased the overall size of the adjustment knobs for easier finger placement and quicker adjustments.
Additionally, we increased the size of the main mounting nut for easier mounting and removing of your light / mount from the picatinny rail. The NightSnipe NS750 EXTREME (IR) Infrared Illuminator!
Nothing illuminates like a NightSnipe! This item is in the category "Sporting Goods\Hunting\Scopes, Optics & Lasers\Night Vision". The seller is "predatorhunteroutdoors" and is located in this country: US. This item can be shipped to United States.
Wraith HD Model: Wraith 4-32x50
Brand: Sightmark
Type: Night Vision Scope
Sport/Activity: Hunting