Waterproof Digital Night Vision Binocular for Complete Darkness Infrared Night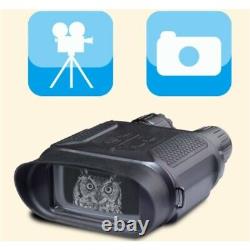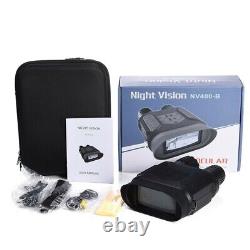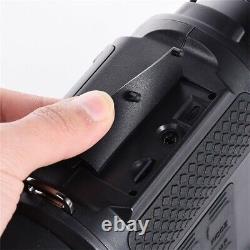 Digital Night Vision Binoculars for Complete Darkness Infrared Night Vision Goggles for Hunting Surveillance. While other night vision gear can't provide high-quality photos & videos without ambient light, drain your batteries within minutes or they are impossible to focus and zoom, the High-Tech Night Vision Binoculars feature a No-Glow INFRARED which allows you to view animals in PITCH DARK without lights for HOURS.
The focus is SMOOTH making it simple to capture CRISP photos. If you love SPOTTING during the night, HUNT coyotes & feral hogs, MONITOR your cattle or just KEEP A WATCH OUT for intruders, designed the MOST EFFICIENT digital IR night vision binoculars. Imagine being able to CAPTURE clear PHOTOS & VIDEOS in pitch black, SAVE everything on a memory card, and DOWNLOAD them to show your friends. The Night Vision Scanners have been developed TO WITHSTAND military activities thanks to the RUGGED housing and it feels comfortable to hold.
One customer said it perfectly: I blacked out the house at night and turned this on and I could SEE everything. If you are looking for an INNOVATIVE gift for a family member, the GlassOwl Goggles will get anyone excited. It features a 2-inch TFT screen (converted to 4 by the convex lens) making it EASY to view photos INSTANTLY and the 2X digital zoom (3.5-7X optical zoom) allows you to see even 1300 FEET AWAY. The FULLY MULTI-COATED 31 mm objective allows for a CRYSTAL-CLEAR viewing. We take pride in designing ONLY premium optics for hunting, camping, fishing, farm security or outdoor fun.
NOTE:When using, you can place AA battery or connect charging port with power bank for use.