X-Vision Optics Digital Night Vision Binoculars (XANB30)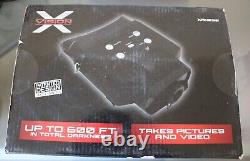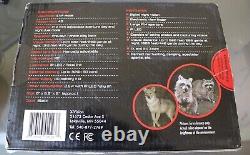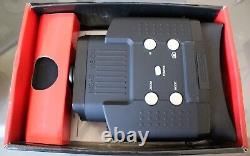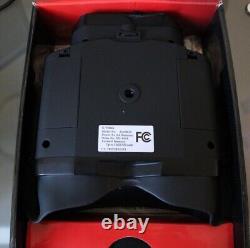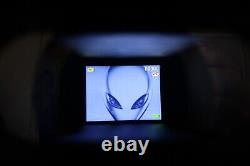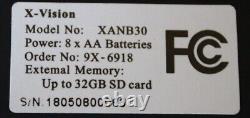 X-Vision Optics Digital Night Vision Binoculars (XANB30). See as far as 150 yards (137 m) in complete darkness, or up to 400 yards (366 m) during the day. Field of view at 100 yards (91 m) is 20 yards (18 m) to ensure nothing ever goes unnoticed. This binocular is perfect for hunting, camping, sports, wildlife observation, farm monitoring, sightseeing, etc. HIGH QUALITY MATERIAL AND ERGONOMIC DESIGN. Weighs 1.54 pounds (0.70 kg) for optimal comfort. This X-Vision Optics Night Vision Digital Binocular is perfect for any harsh environment with its heavy-duty exterior that is durable and built to last. Package comes with a padded neck strap for support during all types of adventure. LONG BATTERY LIFE FOR BOTH DAY AND NIGHT USE. Battery life consists of long continuous use with 10 hours of performance in the daytime or 6 hours of performance at nighttime.
REMEMBER THE ADVENTURE WITH PHOTO AND VIDEO CAPABILITY. Take your goggles into the dark of night and clearly capture objects in total darkness on a large viewing screen. Zoom in up to 2x. EASY TO USE FOR BOTH BEGINNERS AND PROFESSIONALS.
5 simple buttons for straightforward operation. The focus dial on the bottom of the night vision binoculars adjusts the view so you can manually focus on any animal or object around you. Can comfortably view with both eyes, including the use of glasses. Aperture: F1.4 with adjustable aperture day and night dual mode Operation: Preview / photo play back. Night Time Full Dark Distance: 150 yards.
Day Time Max Distance: 400 yards. Object lens focus: Manually adjustable. Luminance: IR LED / total 2W. External Memory: Up to 32GB SD card. Day Time Battery Life: 10 hours.
Night Time Battery Life: 6 hours. Power consumption: 2.5W with IR LED fully on. Unit Size: 7.28in x 5.70in x 2.16in / 18.50cm x 14.47cm x 5.48cm approx. Weight: 1.33 pounds / 0.60 kg approx. What's in the box.
1 X-Vision Optics Digital Night Vision Binoculars (XANB30). If you believe that the Product/Item that you are purchasing may come with other accessories not pictured here. Please read the Following information. That are in nature used in the following to. Open Computer Software or programs. Open CD's, DVD's, Blue Rays, Etc. The above-mentioned Policy is in place as these Items/Parts are in nature used to repair to a Non-functional Product that may have an entirely different underlying issue, and can in fact Damage/Burn Out the Electrical Item/Part that you are purchasing here. You will receive tracking information as soon as it is available to us. We strive to provide you with the best quality products. Thank you for Choosing Us.